Charlotte BRZEZINSKI, 1934 – 1944
Charlotte Brzezinski and her father Jakob, who were both deported on Convoy 77 (photo taken around 1936).
In order to carry out this research, the 10th grade students from class 6 at the Louis Vincent high school in Metz were assisted by Mr. Richard Niderman, who is the first cousin of Martha, Charlotte's mother. Born after the war, he knew neither Martha nor Charlotte but he has a collection of numerous documents left by his brother Joseph. He wrote a short summary for us, provided us with numerous documents and met with us by videoconference.
For further information, we refer readers to our biography of Jakob Brzezinski, Charlotte's father. Further information can also be found in the biography of Charlotte Schuhmann, which some of our fellow students wrote last year.
"Charlotte Brzezinski: I always knew her name but never really knew who she was. My brother, on his deathbed, told me of his despair at not having been able to do anything to save her at Drancy. He would have been happy to see her brought to life again through the pages of your biography. I'm sending you thoughts of Joseph's smile, which was really beautiful."
Richard Niderman, Charlotte's cousin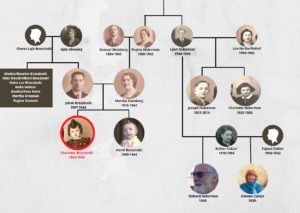 Life in Metz
A little French girl
Charlotte Brzezinski was born on October 9, 1934 at 6:15 p.m. at the Belle Isle Hospital in Metz, in the Moselle department of France. Her parents were Jakob Gedalja Brzezinski (born in Lutomiersk, Poland in 1897) and Martha Sztajnberg (born in Siedliszcze, Poland on August 15, 1915). Jakob was also called Jacques or Yakow. Martha, also known as Bella or Basza, lived in Forbach, in Alsace-Moselle, together with her parents Samuel and Régina Sztajnberg (or Steinberg) until she got married to Jacob in 1933. According to lists found in the municipal archives in Saint-Sauvant, in the Vienne department, where Samuel and Regina were held under house arrest during the war, they had migrated to France as early as 1920.
Thanks to a file sent to us by the French National Archives office, we know that Charlotte was naturalized as a French citizen in 1938, at her parents' request.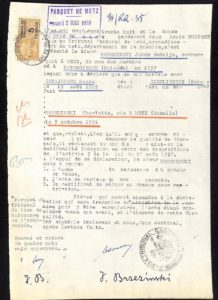 Application for naturalization by declaration for Charlotte Brzezinski in 1938, from a file held by the French National Archives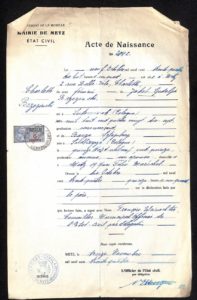 Charlotte Brzezinski's birth certificate from the 1938 naturalization application file ( French National Archives). 
Charlotte had a brother, Henri, born in June 1939. However, the National Archives office was unable to find a naturalization file in his name. Due to the war and the upheaval it caused for the family, her parents probably did not have time to apply. Richard Niderman has a photo of Henri printed on a postcard, dating from 1940.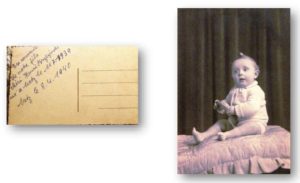 A happy little girl
We have only a few photographs of Charlotte. They were all taken when Charlotte was a child (around 1937 or 1938) and with her mother's side of the family. Richard Niderman kindly sent them to us.
In these the family photos, Charlotte looks like a happy, well-groomed little girl. Always dressed up, even for outdoor pictures, she has a fashionable hairstyle reminiscent of that of Shirley Temple, the Hollywood child star of the 1930s. She appears very much loved by her parents and grandparents. The dedication on the back of Henri's photograph suggests that the little boy was also pampered.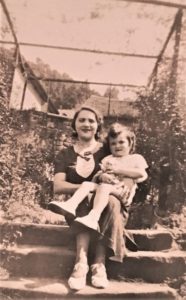 Charlotte and her mother, Martha, in rue Monthyon in Forbach.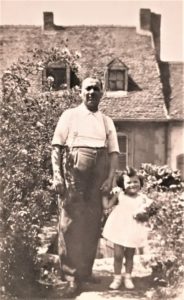 Charlotte and her grandfather, Samuel, in rue Monthyon in Forbach. 
A happy family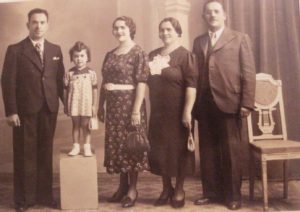 Family photo: from left to right: Jakob Brzezinski, Charlotte, Martha, Regina Steinberg (née Niderman), Samuel Steinberg
Charlotte's maternal grandparents lived on rue Monthyon in Forbach. From what we understand from the records and Richard Niderman's account, the Brzezinskis visited them regularly. The little girl, who lived in an apartment building in the city, enjoyed the spending time in the garden, which seemed to be her grandfather's pride and joy.
The Nidermans also lived in Forbach: Leon was Martha's maternal uncle, but his two children, Charlotte and Joseph, although first cousins of Martha, were of the same generation as Charlotte. Richard Niderman told us that he had heard of happy family gatherings where his brother would sing in Yiddish at the table and the whole family would applaud.
One of his brothers, Alter David (also called Albert, and possibly his twin), had two children, Françoise born in 1927, and David born in 1930. Their sister Hella also lived in Metz. She and her husband, Jacques Welner, had two daughters, Salomé born in 1927 and Alice born in 1935. According to the testimony of Alice Welner, who survived the war, the two girls were quite close to Charlotte and Henri.
A reasonably well-off family
Jakob and Martha lived in a building at 19 quai Félix Maréchal, close to Jakob's hosiery and haberdashery store at 22 rue des Jardins. Martha may have worked with him. His store was between that of his brother Alter David, listed under the name of Albert as a merchant in the 1936 Moselle directory, and that of Moszek Feingrütz, a shirt retailer.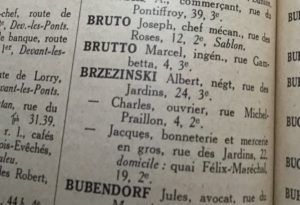 Extract from the 1936 Moselle directory (Metz Municipal archives)
seems business was booming, since Richard Niderman remembers hearing that Jakob owned an automobile. He probably also owned his apartment in Metz. This is most likely why, in 1948, the surviving members of Martha's family applied to the court in Angouleme to have the deaths of all family members officially declared.. Another judgment, made in Tel Aviv in 1949 shows that Jakob had bought a piece of land there before the war. He may have been planning to emigrate to Israel.
A life turned upside down by the war
Life in Angoulême
According to the Brzezinski family's residence card, Charlotte and her parents left Metz in May 1940, when the Germans where attacking France.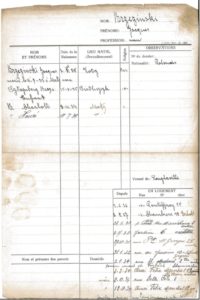 Jakob Brzezinski's residence card (Metz Municipal archives)
They took refuge in Angoulême, where they stayed in a small house in the backyard at 31 bis, rue des Bézines.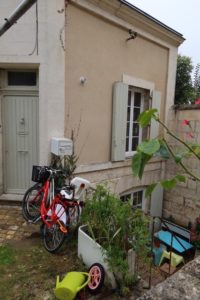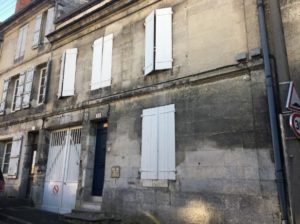 Photos of 31 bis rue des Bézines in Angoulême: a view of the street and another of the little house in the backyard where the Brzezinskis lived
In Angoulême, they met up with the wife and children of Léon Niderman (who was a prisoner of war in Germany), and also with Alter David's family and the Welner family. As for the Steinberg grandparents, they first went to Royan, then to Libourne and finally to Saint-Sauvant in the Vienne department, where several documents confirm their presence. It was there, in July 1941, that they were arrested and interned in the camp on the Limoges road in Poitiers. They were then transferred to Drancy and from there were deported in September 1942.
In August 1942, the Brzezsinski family took in the Niderman children, who had just lost their mother, while their father was a prisoner of war in Germany. Richard Niderman is still in contact with a non-Jewish friend of his sister, Mauricette, who lived in Angoulême, but she has few memories of Jakob and Charlotte. Charlotte was probably very discreet, probably used to keeping quiet because her father, who had a heart condition, needed to rest.
The roundup
The family lived there until the night of October 8-9, 1942, when, along with the 442 other Jews living in the Charente department, they were arrested and taken to the Angoulême Philharmonic Hall. All the people who had been rounded up stayed there for almost a week in very difficult living conditions, after which those who were French nationals were "released".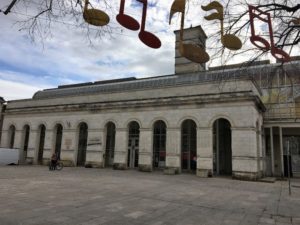 The courtyard of the Philharmonic Hall in Angoulême, with the plaques commemorating the roundup (photo taken by Richard Niderman)
Charlotte, being of French nationality, like the other children the same situation, was probably entrusted to a Catholic religious institution. We do not know which one, but we do know that she was not among the young girls taken in by the Bon Pasteur (Good Shepherd) nuns.
His brother Henri was not deported at this time either. Does this mean that he was a French citizen? Maybe, because when the German authorities separated the French from the foreigners, his parents entrusted him to the Feingrütz family, their old neighbors in Metz, who were French. Jakob, who had a heart condition, could not be deported. We know that he was admitted in December 1942 to the Hôtel-Dieu hospital in Poitiers. Martha was the only one of the family who was transferred to Drancy on October 15 and then deported on Convoy 40 on November 4, 1942, as were most of the other people arrested during this roundup.
The Lamarck children's home
A spell with the Feingrütz family
We know that Charlotte Schuhmann spent the six months prior to her departure for Paris staying with the Feingrütz family at 37, boulevard Denfert-Rochereau in Angoulême.
This family, who had been French citizens since 1930, had a store at 24 rue des jardins in Metz before the war, right next door to that of Jakob Brzezinski.
We also know that in 1944 the Feingrütz family were living in Eymoutiers in the Haute-Vienne de with little Henri Brzezinski. They were arrested together with him during the roundup of April 7, 1944, and they were then interned in Drancy. In Drancy, men and women were separated, but Henri was put in the same room as Mrs. Feingrütz and her 13-year-old daughter, Mathilde. He was also deported to Auschwitz with the Feingrützes. Henri had thus found a new, adoptive family.
In the light of all these points, it is reasonable to assume that Charlotte and Henri Brzezinski were staying with Charlotte Schuhmann at the Feingrütz family home at the same time, from the end of 1942 to the beginning of June 1943. The two girls probably became very close.
There is no further trace of Charlotte until June 9, 1943, when she was admitted to the Lamarck children's home in Paris. This was run the by the UGIF (Union Générale des Israélites de France, or General Union of French Jews), which took in Jewish children separated from their families due to their parents having been deported. On the admissions list, she appears at the very end, just above Charlotte Schuhmann, which is totally out of keeping with the usual alphabetical order. This suggests that the two girls knew each other well and most likely arrived together. According to Joseph Niderman's account, prior to their arrival in Paris, several dozen children and adults from all over the Charente region were gathered together in Angoulême, where they lived for three days in very crowded conditions. While at the Lamarck center with Charlotte Schumann, Charlotte met up with her cousins Joseph and Charlotte Niderman. In the weeks that followed, she no doubt also crossed paths with her other cousins, Alice and Salomé Welner.
During her stay at the Lamarck home, we know that Charlotte spent two Sundays, July 25 and August 1, 1943, with a Jewish family, the Burzinskis (or Bourlinskis), at 109, rue du Cherche Midi. The purpose of these visits to unfamiliar families was to distract the children, to help them rediscover a family atmosphere and to allow the children to save money on food at a time when food was rationed.
According to UGIF records, Charlotte spent a week or so in the Necker children's hospital, the Hôpital des Enfants Malades, from June 28 to July 8, 1943. The records do not give the reason for this.
We also know that she spent some time in another UGIF home, the La Varenne center, from which she returned on September 29, 1943. The register of entries and departures from the Lamarck center mentions that she left on August 11, which may be the date she went to the La Varenne center. This center was in the countryside, so Charlotte may have been sent there to convalesce after having been in hospital, or simply to benefit from some fresh air.
According to the Lamarck center's records, Charlotte's last departure from the home was on January 11, 1944. This was probably when she was sent to another children's home, this time in Montreuil.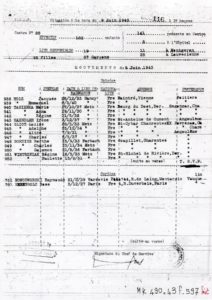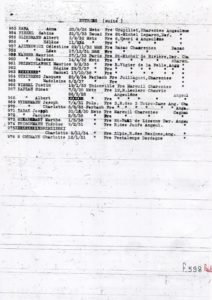 List of arrivals at the Lamarck center on June 9, 1943 (Shoah Memorial archives)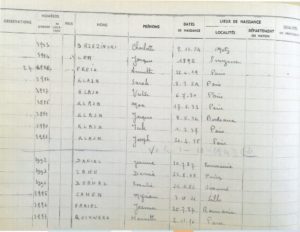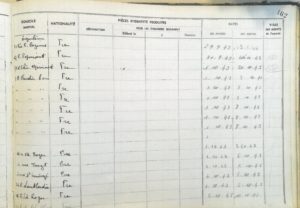 The final mention of Charlotte in the register of entries and exits from the Lamarck children's home (Lamarck center archives). September 29, 1943 is when she returned from the La Varenne center, and January 13, 1944 could be the date when she left for the Montreuil center.
Charlotte in the Montreuil children's home
The Montreuil children's home was a small place in the Paris suburbs that housed only about 20 children. We know that Charlotte attended the nearby Marcellin Berthelot school, where there is a commemorative plaque in memory of these children. While in this home, she met up with her cousin Alice Welner, who later escaped, on an unknown date, with the help of her sister Salomé.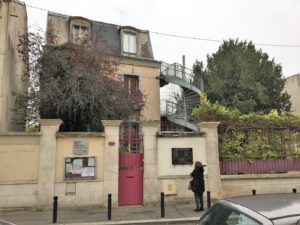 The former UGIF center in Montreuil (photo taken by Richard Niderman)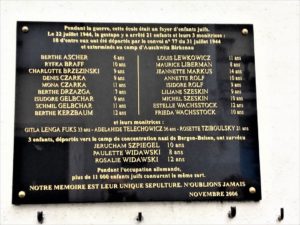 The commemorative plaque on the wall of the UGIF center in Montreuil (photo taken by Richard Niderman)
Drancy and deportation
Charlotte was arrested in the Montreuil home during the night of July 21-22, 1944 and then transferred to the Drancy camp. According to the transfer book, she was place in room 4, on stairwell 7.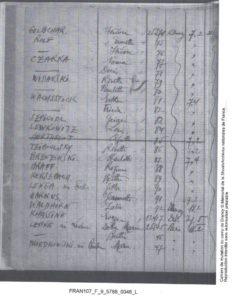 Extract from the Drancy transfer register (Shoah Memorial archives)
In Drancy, she probably met up with her cousins, the Nidermans, but they were sent to Bergen-Belsen on the 23rd due to the fact that their father was a prisoner of war. Although life was hard, the two young children managed to survive in this camp. According to Richard Niderman, Joseph regretted until his dying breath that he could not save his cousin Charlotte. This may mean that he tried to have her leave with him.
Another question arises: did Charlotte meet up with her father Jakob who, after spending almost a year and a half at the Hôtel-Dieu hospital in Poitiers, a hospital linked to the internment camp on the Limoges road, had been transferred to Drancy in May 1944 and was still there when his daughter arrived? Along with more than 1,300 other people, Charlotte was deported on Convoy 77, which left for Auschwitz on July 31. The list of the deportees of the convoy was made in alphabetical order. Charlotte was listed just before her father, but there is no evidence that they traveled in the same car or that they had time to meet each other. Both were declared dead on arrival at the camp, officially on August 5, 1944.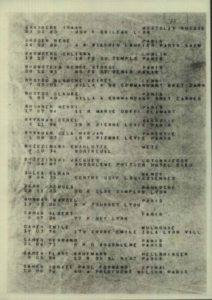 List of deportees on Convoy 77 Arolsen (Archives)
We are disappointed that we were unable to find more records that would have enabled us to reconstruct more of Charlotte's short life and to learn more about her personality. However, it turns out that the story of the Welner sisters, Alice and Salomé, provided inspiration for an American author, Carol Kasser, who, based on Alice's memories, wrote a book called Alice in Nether Land. The author writes in the voice of Alice, who talks about Charlotte and Henri three times. On page 80, Alice, who is about to land in the United States, where she is going to live, remembers her two cousins.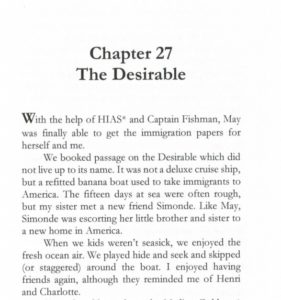 Excerpt from Carol Kasser's book, Alice in Nether Land (2019)
Acknowledgements
We would like to express our warmest thanks to Richard Niderman, who helped us to get to know Charlotte. We also thank Ms. Hildegarde Gauthier who did a great deal of research for us at the Vienne Departmental archives and also at Saint-Sauvant, where she worked in with the archivist, Mr. Robert Puaux.
Contributor(s)
This biography was written by 10th grade students from class 6 at the Louis Vincent high school in Metz, under the guidance of their history and geography teacher, Mr. Mandaroux, and the teacher and librarian, Ms. Michel.