Hortense HAUSSMANN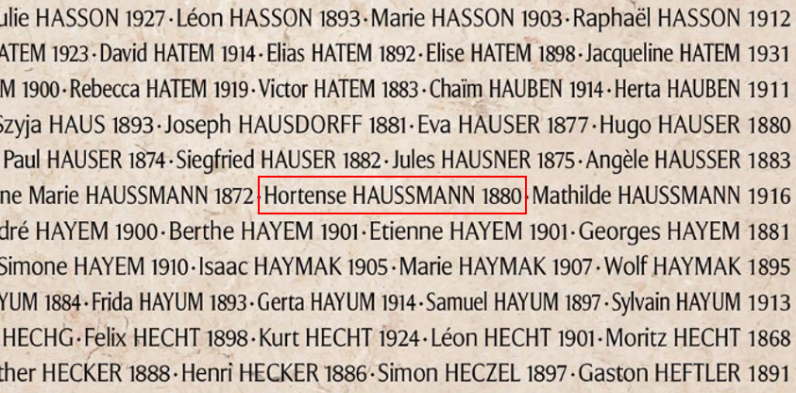 Inscription on the Wall of Names. Source : Shoah Memorial in Paris ©
Image source: Shoah Memorial image here
Viewed on June 5, 2022
————————————————————————————————
Für unsere deutschsprachigen Leser*innen: Der Text ist unterhalb der französischen Version auch auf deutsch verfügbar.
————————————————————————————————
Hortense Hausmann was born on November 14, 1880 in Ribeauvillé, Alsace, which is now in France but was then in Germany. She was the daughter of Maurice Weill and Sarah Weill (or Weyl). Her father was a cattle merchant. She had a brother and four sisters: Marthe, who was born on November 8, 1884. Hortense was only four years her senior. Next came Léonie, who was born on August 9, 1884, and then Cécile, who was born on November 8, 1884. Hortense also had another sister, who died the on the day she was born. She also had a younger brother, Marcel, born on October 31, 1890.
Hortense was raised in a Jewish family. She therefore went to the Jewish school for girls in Ribeauvillé. At that time, there were no mixed schools, the boys were separated from the girls, and there were also Protestant, Catholic and Jewish schools. The local people were deeply anti-Semitic, however, so it was not easy to be Jewish in Alsace in those days. For this reason, her mother changed her first name. She was originally called Sarah but used the name Pauline.
Hortense remained single for several years, until she met John Hausmann. He was actually called John Israël but kept quiet about his middle name. He was born on November 22, 1884 in Horburg and was the son of Louis Hausmann and Frédérique Schönberg. The couple had lived in Hamburg for a while, then moved to the small town of Horbourg in France and Georges was raised there. Hortense married John Haussmann on August 25, 1909 in Ribeauvillé. John was a lawyer, which made him an influential figure, and they were a well-to-do couple.
They initilally lived in Ribeauvillé, but shortly after they got married, Hortense Haussmann and her husband moved to Hamburg. There they had their first son, Georges, on August 6, 1910. Hortense had three more children in the years that followed.
However, in 1914, the First World War broke out. While Hortense's husband fought on the same side as the rest of the family, after the war, and the Allies' victory, Alsace became French. The people of Alsace had to assimilate into the French way of life and speak the language. Hortense thus learned French, as did the rest of her family.
When Hitler came to power in 1933, the environment for German Jews deteriorated rapidly and Hortense and her husband were afraid for their children. They sent them to Paris to keep them safe.
The couple only moved to Paris later on, in 1940, and lived at 44, avenue de Versailles in the 16th district. Why did they decide to go to Paris? In Alsace, there was intense anti-Semitism, so they did not go back to their family there. They might also have been afraid of being so close to Nazi Germany. And Paris may have seemed appealing to them, because it had always been a very attractive city, but this was surely not the main reason. We can surmise that the family probably fled from the Nazi regime because life for Jews in Germany was becoming increasingly difficult. They would have had more freedom in Paris, but unfortunately for them, the Germans occupied Paris in June 1940. One of their sons was suffering from tuberculosis and was in a sanatorium in 1943, which must have been very difficult for him. How were sick Jews regarded at the time? Another son migrated to the United States. He then moved to Milwaukee. He escaped the horror of the Holocaust.
John, Hortense's husband, was arrested on July 16, 1942 during the Vel d'Hiv round-up. This was the largest mass arrest that took place in France: 13,152 people were arrested. Immigrant and stateless Jews were specifically targeted: they were locked up in the cycle stadium and then deported to concentration camps. John was sent to Auschwitz, where he died.
Hortense's eldest son, Georges, also met a sad fate: he too probably fled the Nazis and moved to France. Sadly, he was arrested in Septfonds and was probably imprisoned there, as were many other Jews. He was imprisoned in Saint Sulpice, and soon afterwards was sent to Drancy. On September 7, 1942, he was deported on Convoy 29 to Auschwitz. He died in the concentration camp.
Hortense herself also lost her life. On July 29, 1944, she was arrested by the Gestapo. The concierge and her neighbors witnessed the scene but were powerless to do anything. They were alerted by the noise, but did nothing, because it was too dangerous. One might even wonder if the neighbors reported her, since that happened frequently at the time.
At that point, Hortense was alone. She was then transferred to Drancy, where she stayed for only two days, and then deported to Auschwitz on July 31, 1944. After the long, three-day journey, she arrived in Auschwitz on July 31, 1944.
Initially, her family did not know where she was. Her sister, Marthe Cohen, went to the see the police because Hortense's son was ill and was not allowed to leave the sanatorium. Marthe was also living in Paris with her husband and she too had realized that her sister had gone missing. She and her nephew must have been worried. Hortense's husband had also been arrested by the Gestapo two years earlier and had never come home. It was already clear what was happening to the Jews: they were dying. After Marthe spoke with the police, she still had no idea what had happened to her sister. However, the police knew very well where she was and what was in store for her. They knew because they had contacted the Gestapo.
John had been deported to Auschwitz two years earlier. He had died there. We can therefore surmise that his family may have already been worried about this possibility, but we do not know that.
Hortense was deported because she and her family were Jewish. She knew she was going to be killed. Initially, Hortense was taken to Drancy. This was an internment camp in Seine Saint Denis, north of Paris, that had originally been built as low-cost housing. Many people were deported from Drancy to concentration and extermination camps. At that time, a lot of people were being deported. Hortense was shocked at how quickly the Gestapo arrested her. She was terrified of being killed. She arrived at Drancy on July 29, 1944, was placed in Block V, Stairway 18, Room 2. This was terrifying, dehumanizing news. She was merely a prisoner who spent a few days in Drancy. She was deported to Auschwitz on July 31, 1944. The number of her transport, or convoy, was 77. The Gestapo declared her dead that same day in Drancy. As far as the Gestapo was concerned then, she was already dead. However, she was not dead yet: she had to suffer the terrible journey to Auschwitz.
On July 31, 1944, when Hortense Haussmann boarded the train from Drancy to Auschwitz, she knew very well what was going to happen. During the journey to Auschwitz, the SS did not provide the deportees with food or water. They were all hungry and thirsty. The journey was terrible and the traveling conditions were appalling, as people were all crammed together in the cattle car. When she arrived at Auschwitz, she saw a tall watchtower, which the train had passed by to reach a huge, open-air station. She could see a lot of barracks and buildings that looked like factories. She saw a lot of men and a lot of soldiers on the station platform. The soldiers opened the doors of the train and all the deportees had to get out. They were divided into two lines, but the prisoners did not know why. The seniors, children and sick people were in one group and the healthy ones were in the second group. Hortense was put in the first group, because she deemed to be too old, and some SS men took her to the gas chambers, where she was murdered, as were countless other prisoners.
She died sometime between July 31, when she left Drancy, when she arrived in Auschwitz, and August 5, 1944. At that point in time, people under the age of 14 or over the age of 55 were killed within 5 days of their arrival. A doctor decided who was sent to die and who was allowed to live. 75% of the new arrivals were killed because they were unable to work. The others lived on, in terrible circumstances: they had very little food and hardly any clothing. They worked from about 3 a.m. to 7 p.m. and as a result, they lost a lot of weight. Auschwitz was one of the harshest concentration camps. It was built in 1940 by the Nazis as a labor and concentration camp. In November 1943, it also became an extermination camp. About 1.3 million people were deported to Auschwitz and 1.1 million of them died, the majority of them Jews.
Her son suffered the same fate; he died in Auschwitz on September 9, 1942. Hortense lost her son and her husband to the Nazi regime.
For the rest of the family, it was very tough, because it was a long time before anyone knew when, or even if, Hortense had died. It was three years before they found out what had happened to her: that was a long time to wait to discover the truth. Hortense's family finally found out what happened to her: she had died in Auschwitz. The police investigation was concluded in 1948. By then, her sister, and hence the rest of the family, had heard all the tragic details of her fate.
Marthe survived this terrible era. Hortense, sadly, was not as fortunate.
Acknowledgements
We would like to thank the Cercle de Recherche Historique de Ribeauvillé et Environs
(Historical Research Circle of Ribeauvillé and the surrounding area) for their valuable help and access to records relating to Hortense Hausmann.
The 11th grade students of classes 4-5
Ribeauvillé high school
June 2022
—————————————————————
Hortense HAUSSMANN
Hortense Hausmann wurde am 14. November 1880 in Rappoltsweiler (Ribeauvillé), in dem damals zu Deutschland gehörenden Elsass geboren. 1871 gewann Deutschland den deutsch-französischen Krieg und das Elsass und Lothringen wurden deutsch, also war Ribeauvillé bei ihrer Geburt seit mehr als zehn Jahren ein deutsches Gebiet, wo man Deutsch sprach. Sie war die Tochter von Maurice Weill und Sarah Weill (Weyl). Ihr Vater war Viehhändler. Sie hatte Geschwister: einen jüngeren Bruder, Marcel, der am 31. Oktober 1890 geboren wurde, und vier Schwestern, darunter Marthe, die am 8. Nov 1884 geboren wurde. Hortense war nur vier Jahre älter als sie. Es gab auch Leonie und Cecile. Leonie wurde am 9. August 1876 und Cecile am 23. September 1878 geboren. Die andere Schwester starb am Tag ihrer Geburt.
Hortense wuchs in einer jüdischen Familie. Sie ging also zu der jüdischen Schule für Mädchen in Ribeauvillé. Zu Hortenses Zeiten gab es keine gemischten Schulen: Jungen und Mädchen wurden getrennt, dazu gab es protestantische, katholische und jüdische Schulen. Die Bevölkerung war aber sehr antisemitisch, es war nicht einfach, in dieser Zeit Jude zu sein. Darum hat ihre Mutter ihren Vornamen geändert. Si hieß ursprünglich Sarah und hat ihren Namen in Pauline geändert.
Hortense blieb lange unverheiratet, dann traf sie John Hausmann. Er hieß auch Israel aber es klang zu sehr judäisch. Er wurde am 22. November 1884 in Horbourg geboren und war der Sohn von Louis Hausmann und Frédérique Schönberg. Das Paar hatte eine Zeit lang in Hamburg gelebt, dann war es nach Frankreich nach Horbourg umgezogen und Georges wurde in der kleinen Stadt großgezogen. Hortense heiratete John Haussmann am 25. August 1909 im Ribeauvillé. John war Prokurist. Er hatte also eine Arbeit, die ihn einflussreich machte.
Sie wohnten in Ribeauvillé, aber bald nach ihrer Heirat ging Hortense Haussmann mit ihrem Mann nach Hamburg. Sie hatten dann am 6. August 1910 ihren ersten Sohn: Georges. Hortense bekam 3 weitere Kinder in den nächsten Jahren.
Doch brach 1914 der erste Weltkrieg aus. Zwar kämpfen Hortenses Mann und ihre Familie an derselben Seite, aber 1918 wurde das Elsass nach Deutschlands Niederlage Französisch. Also sollen sich die Leute im Elsass der französischen Kultur anpassen und sie wurden gefordert, Französisch zu sprechen. Hortenses Familie hatte das Französisch gelernt, und Hortense lernte es ihrerseits auch.
1933 kam Hitler an die Macht: Die Situation verschlechterte sich schnell für die deutschen Juden, und Hortense und ihr Mann haben Angst um ihre Kinder gehabt: Sie haben sie nach Paris geschickt, um sie in Sicherheit zu bringen.
Das Paar ist später, erst 1940 nach Paris, 44, avenue de Versailles im 16. Arrondissement umgezogen. Warum nach Paris? Im Elsass gab es einen starken Antisemitismus, sie sind also nicht zu ihrer französischen Familie zurückgezogen. Die Nähe zum nationalsozialistischen-Deutschland machte ihnen vielleicht Angst. Und Paris hatte sie vielleicht gezogen, denn die Hauptstadt war immer ein sehr attraktiver Ort, doch war es bestimmt nicht der richtige Grund. Man kann die Hypothese machen, dass die Familie bestimmt 1940 vor dem Nazi-Regime nach Frankreich geflohen ist, da die Situation für Juden in Deutschland immer komplizierter wurde. Sie ging nach Paris, um wieder mehr Freiheit zu haben, aber leider wurde Paris im Juni 1940 von den Deutschen besetzt. Ein Sohn litt an Tuberkulose und war im Sanatorium im Jahr 1943. Es muss sehr kompliziert für ihn gewesen sein. Wie wurden zu der Zeit kranke Juden betrachtet? Ihr anderer Sohn ist in die USA migriert. Er lebte dann in Milwaukee. Er entfloh dem Grauen des Holocausts.
John, Hortenses Mann, wurde am 16. Juli 1942 während der Massenverhaftung in Vel d'Hiv festgenommen. Da fand die größte Massenverhaftung Frankreichs mit 13 152 Verhaftungen statt. Diese Massenverhaftung zielte auf staatenlose Juden und Flüchtlinge. Die Juden wurden in Velodrome geführt, wo sie darauf warteten, in die Vernichtungslager geschickt zu werden. John wurde nach Auschwitz deportiert und starb dort.
Hortenses ältester Sohn Georges erlebte mit 32 Jahren auch ein traurigeres Schicksal: Sicherlich wollte er nach vor dem Nationalsozialismus nach dem freien Frankreich fliehen. Leider wurde er in Septfonds festgenommen. George war vielleicht in dem Lager in Septfonds, wo sehr viele Juden geführt wurden. Er wurde in Saint Sulpice verhaftet, und kurz darauf nach Drancy geführt. Er wurde nach Auschwitz am 7 September 1942 (mit dem Convoi 29) deportiert und starb leider während seiner Verhaftung im Konzentrationslager.
Und eines Tages verschwand Hortense. Am 29 Juli 1944 wurde sie von der Gestapo festgenommen. Die Hausmeisterin und ihre Nachbarn haben diese Szene gesehen aber waren machtlos. Der Lärm hatte sie alarmiert, aber sie haben gar nicht getan, es war zu gefährlich. Man kann sich sogar fragen, ob die Nachbarn sie nicht angezeigt haben, denn es war leider zu der Zeit üblich. An diesem Moment war Hortense allein. Danach wurde sie nach Drancy verschleppt, wo sie nur zwei Tage blieb und dann wurde sie am 31 Juli 1944 nach Auschwitz deportiert. Nach einer langen Fahrt von drei Tagen war sie den 31 Juli 1944 in Auschwitz angekommen.
Am Anfang wusste ihre Familie nicht, wo sie war. Ihre Schwester, Marthe Cohen ging zur Polizei, denn der Sohn von Hortense war krank und durfte das Sanatorium nicht verlassen. Marthe lebte mit ihrem Mann in Paris und hatte also die Verschwindung ihrer Schwester schnell bemerkt. Sie und ihr Neffe haben sich bestimmt für sie Sorgen gemacht. Hortenses Mann wurde ebenfalls zwei Jahre vorher von der Gestapo festgenommen und war nie zurückgekommen. Man ahnte schon, was mit den Juden geschah: Sie starben. Nach Marthes Gespräch mit der Polizei hatte sie noch keine Informationen über ihre Schwester. Aber die Polizei wusste doch ganz genau, wo sie war und was sie erwarten würde. Sie wussten es, weil sie einen Austausch mit der Gestapo hatten.
John wurde zwei Jahre zuvor nach Auschwitz deportiert. Er war dort gestorben. Also können wir vermuten, dass es möglich ist, dass ihre Familie schon diese Möglichkeit befürchtet hat? Diese Frage können wir nicht beantworten.
Hortense wurde deportiert, weil sie und ihre Familie Juden waren. Sie wusste, dass sie getötet werden sollte. Hortense kam zuerst nach Drancy. Es ist ein Internierungslager in der Region Ile-de-France im Département Seine Saint Denis, Ursprünglich waren in diesem Gebäude billige Wohnungen. Diese Internierungslager organisierte die Deportationen zu den Konzentrationslagern und Vernichtungslagern. An diesem Moment gab es viele Deportierte. Hortense war von der schnellen Verhaftung von der Gestapo geschockt. Sie war terrorisiert, getötet zu werden. Sie ist am 29. Juli 1944 in Drancy angekommen, kam in den Block V, Treppe 18, Schlafzimmer 2. Erschreckende, entmenschlichende Informationen. Sie war nur Gefangene und blieb ein Paar Tage in Drancy. Sie wurde am 31. Juli 1944 nach Auschwitz deportiert. Die Nummer ihres Zuges (das Convoi) ist die 77. Die Gestapo erklärte sie am selben Tag in Drancy für tot. Für die Gestapo ist sie also schon tot. war sie aber noch nicht. Sie erlebte die schreckliche Fahrt nach Auschwitz.
Am 31. Juli 1944, als Hortense Haussmann in den Zug von Drancy nach Auschwitz ging, wusste sie was geschehen würde. Während ihrer Fahrt nach Auschwitz verteilten die SS den Deportierten kein Essen und kein Wasser. Sie hatten Hunger und sie hatten Durst. Die Fahrt war schrecklich und die Bedingungen waren grausam, weil sie in dem Wagon zusammendrängt waren. Als sie in Auschwitz ankam, sah sie einen großen Überwachungsturm, und der Zug war es durchgefahren, um in einen großen Bahnhof unter freiem Himmel anzukommen. Sie könnte viele Häuser und Gebäude sehen, die wie Fabriken aussahen. Sie sah viele Männer und viele Soldaten am Bahnhofgleis. Die Soldaten öffneten die Türen des Zuges und alle Deportierten sollten raus: Sie bildeten zwei Reihen aber die Gefangenen wussten nicht warum. Die alten, die jüngeren und die kranken Personen waren zusammen und die gesunden Menschen bildeten eine zweite Gruppe. Hortense war mit der ersten Gruppe, denn sie war schon älter und einige SS haben sie zu der Gaskammer begleitet, wo sie wie viele anderen ermordet wurde.
Ihr Todesdatum ist wahrscheinlich zwischen dem 31. Juli, Abreisedatum von Drancy und Ankunft in Auschwitz, und dem 5. August 1944. Zu dieser Zeit wurden die Personen unter 14 Jahren oder über 55 Jahren innerhalb von fünf Tagen nach ihrer Ankunft getötet. Ein Arzt wählte die Menschen, die zum Tod geschickt wurden und die Menschen, die überleben durften. 75% der Ankommenden wurden ermordet, weil sie nicht arbeiten konnten. Die anderen lebten in schrecklichen Lebensbedingungen: sie hatten fast kein Essen, keine Kleidung. Sie arbeiteten ungefähr von 3 Uhr bis 19 Uhr. Deswegen verloren sie so viel Gewicht. Auschwitz gehörte zu den schwersten Konzentrationslagern. Auschwitz wurde im Februar 1940 in Polen von den Nationalsozialisten gebaut. Es wurde am Anfang ein Konzentrationslager und Zwangsarbeit. Ab November 1943 wurde es ein Vernichtungslager. Ungefähr 1,3 Million Personen wurden zwischen 1940 und 1945 dort deportiert und 1,1 Million wurden getötet. Die meisten Gefangenen waren Juden.
Ihr Sohn, George Haussmann, erlebte dieses Schicksal, am 9. September 1942 starb er in Auschwitz. Also hat Hortense ihren Sohn, ihren Mann schon wegen dem Nationalsozialismus verloren.
Für die Familie war es schwierig, weil sie lange nicht wusste, wann (ob?) Hortense gestorben war. Sie haben erst 3 Jahre später erfahren, was mit ihr geschehen war: Ein langes Warten um die Wahrheit.
Die Familie von Hortense bekam schließlich die Informationen und Umstände ihres Verschwindens: sie war in Auschwitz gestorben. Die polizeilichen Ermittlungen wurden 1948 wieder aufgenommen. An diesem Moment hatten ihre Schwester und die ganze Familie die ganze Geschichte und alle Details erfahren.
Marthe überlebte diese schreckliche Zeit. Hortense hatte dieses Glück nicht.
Wir danken der Cercle de Ribeauvillé für seine wertvolle Hilfe und den Zugang zu den Dokumenten über Hortense Hausmann.
Die Schüler der Première 4-5
Lycée de Ribeauvillé
Juin 2022
Sources:
Death certificate: French Ministry of Veterans' Affairs and Victims of War (February 18, 1948)
Ministry of Veterans' Affairs and Victims of War, letter to the Public Prosecutor of the Republic, Court of First Instance of the Seine department, letter from the archives, Hortense Hausmann's death certificate, Ministry of Veterans' Affairs and Victims of War (August 7, 1948)
Request for the rectification of the civil status of a "non-returned person". Ministry of Veterans' Affairs and Victims of War. Minister's Office. (January 22, 1948).
Extract from the birth register, Ribeauvillé town hall. (January 16, 1948).
Letter addressed to the Public Prosecutor of the Republic, from the Ministry of Veterans' Affairs and Victims of War, by delegation The Head of the Office for the Civil Status of Deported Persons. (August 7, 1948)
Cercle de Recherche Historique de Ribeauvillé et Environs (Historical Research Circle of Ribeauvillé and the surrounding area) article: Des années noires à la Libération 39-45 (From the dark years to the Liberation '39-'45), Bulletin n° 8bis, reprinted in 2009
Ribeauvillé town hall. (January 16, 1948). Extract from the birth register. Viewed on May 11, 2022
Links:
Shoah Memorial in Paris resources:
https://ressources.memorialdelashoah.org (viewed on May 8, 2022)
https://ressources.memorialdelashoah.org/notice.php?q=noms_tous%3A%28haussmann%29%20AND%20num_convoi%3A%2877%29%20AND%20id_pers%3A%28%2A%29&start=0&rows=1&fq=diffusion%3A%28%5B4%20TO%204%5D%29&from=resultat&sort_define=&sort_order=&rows=
(viewed on May 18, 2022)
Convoy 77 archives: https://www.edu.convoi77.org/
(viewed on May 18, 2022)