Irmgard aka Erika AUBRY, née HIRSCH
——————————————————————————————————————————-
Für unsere deutschsprachigen Leser: Der Text ist unterhalb der englischen Version auch auf deutsch verfügbar.
——————————————————————————————————————————
(In the family archives other names will be found that she gave herself – or was later given – such as Jacqueline, Jackie)
Irmgard Erika Hirsch was born in Düsseldorf, Germany on November 20, 1909.
She had a sister, Marguerite (1903), and a brother, Ernst Morris (1904).

Her parents were Ludwig Hirsch, born in Mülheim an der Rhur on May 1, 1877 and Claire Kaufmann, born on July 1, 1879, also in Mülheim an der Rhur.

It is not known when she arrived in France.
At the end of the 30's she worked as a hairdresser in Paris.
In 1939 she married Fernand Aubry, who was a hairdresser and beautician. She was written a personal compliment by Sacha Guitry, which has been kept by the family and is reproduced below.

Meanwhile her parents went to live in the Netherlands. They survived the war there, hidden with families in Driebergen, like so many other Jews. (This writer wishes to recall that the Netherlands can claim the highest number of the Just among all nations.)

On July 14, 1944 Irmgard Erika, residing at n° 10 rue Maspero, was imprisoned in the Drancy camp with the I.D. number 25113. The sum of 1691 francs of hers was impounded, as is attested by the camp receipt (Receipt n° 6460 in the camp's counterfoil receipt book n° 156).
She was four and a half months pregnant.

On July 31 she was deported in convoy 77 to Auschwitz, where she was murdered on the 4th of August, as testified by at least two fellow deportees.

Later, after the war her husband, along with her nephew Michaël and her niece Elizabeth, tried incessantly but vainly to find her, believing they had recognized her in a film showing survivors from Bergen-Belsen.

—————————————————————
Irmgard Erika AUBRY, née Hirsch: Information
Dates: 1909-1944
City of birth: Düsseldorf (Germany)
City where arrested: PARIS (FRANCE)
Age at her arrest: 34
Places of residence: Düsseldorf (Germany), Paris (France)
Contributor: Marc Hordies, Michaël's son-in-law
Sources:
Memorial of the Shoah
Family archives
June 7, 1987 JOURNAL OFFICIEL OF THE FRENCH REPUBLIC page 06201. State Secretariat for Veterans Decree of April 22, 1987 concerning the mention "Died in deportation" on death certificates
———————————————————————————————————————
Irmgard genannt Erika AUBRY, geborene HIRSCH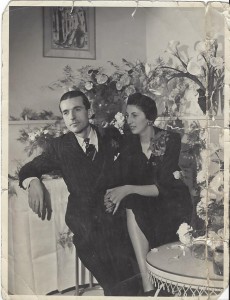 1909-1944 I Geburt: DÜSSELDORFI Festnahme: PARIS I Wohnsitz: DÜSSELDORF, PARIS
Irmgard Erika Hirsch wurde am 20. November 1909 in Düsseldorf (Deutschland) geboren.
Sie hatte eine Schwester, Marguerite (1903), und eine Bruder, Ernst Morris (1904).
Ihre Eltern waren Ludwig Hirsch, geboren am 1. Mai 1877 in Mülheim an der Ruhr, und Claire Kaufmann, geboren am 1. Juli 1879 ebenfalls in Mülheim an der Ruhr.
Es ist nicht bekannt, wann sie in Frankreich ankam.
Ende der 1930er Jahre arbeitete sie als Friseurin in Paris.
1939 heiratete sie Fernand Aubry, der ein Friseur und Kosmetiker war. Sie erhielt ein persönliches Kompliment (Empfehlungsschreiben/Grußwort?) von Sacha Guitry, das von der Familie aufbewahrt wurde und unten abgebildet ist.
In der Zwischenzeit gingen/zogen ihre Eltern in die Niederlande. Sie überlebten den Krieg dort, versteckt von Familien in Driebergen, wie so viele andere Juden. (Der Autor möchte daran erinnern, dass die Niederlande die höchste Zahl von Gerechten unter allen Nationen vorweisen kann.)
Am 14. Juli 1944 wurde Irmgard Erika, wohnhaft in der Rue Maspero Nummer 10, im Lager Drancy mit der Identifikationsnummer 25113 interniert. Die Summe von 1691 Franken wurde beschlagnahmt, wie der Lagerbeleg (Quittung Nr. 6460 im Quittungsbuch Nr. 156 des Lagers) beweist.
Sie war bereits viereinhalb Monate schwanger.
Am 31. Juli wurde sie im Konvoi 77 nach Auschwitz deportiert, wo sie am 4. August ermordet wurde, wie es von mindestens zwei Mitdeportierten bestätigt wurde.
Später, nach dem Krieg, versuchte ihr Mann zusammen mit ihrem Neffen Michaël und ihrer Nichte Elizabeth unaufhörlich, aber vergeblich, sie zu finden, in dem Glauben, sie in einem Film erkannt zu haben, der Überlebende des Lagers Bergen Belsen zeigte.

Irmgard Erika AUBRY, geb. Hirsch: Informationen
Daten: 1909-1944
Geburtsort: Düsseldorf (Deutschland)
Ort ihrer Festnahme: PARIS (FRANKREICH)
Alter bei ihrer Verhaftung: 34 Jahre
Wohnort: Düsseldorf (Deutschland), Paris (Frankreich)
Mitwirkende(r): Marc Hordies, Michaëls Schwiegersohn
Quellen:
Mémorial de la shoah
Familienarchiv
Juni 1987 JOURNAL OFFICIEL DE LA RÉPUBLIQUE FRANÇAISE Seite 06201. SECRÉTARIAT D'ÉTAT AUX ANCIENS COMBATTANTS vom 22. April 1987 über die Erwähnung "Gestorben bei der Deportation" in den Sterbeurkunden.