Sol COHEN, married name ANGE
Since there are no photographs of Sol Cohen available, we are showing her marriage certificate.
This is the story of Sol Cohen, married name Ange, who was arrested in Paris together with her daughter Juliette in July 1944 and deported to Auschwitz on Convoy 77, the last large transport from Drancy to Auschwitz.
It was written by 9th grade students Leila, Erine, Abdelmalek, Maxence, Mohamed, Brice, Salimata, Ashna, Arthur, Théo, Sarah and Justine, with the guidance of their history and geography teacher, Haphsatou Agne, at the Collège Clagny middle school in Versailles, France.
Sol was born in 1906, on an unknown date, in Salonika, now Thessalonika, in Greece.
She was married to Joseph Ange, who was also from Salonika and was born in 1899.
There is little information available about Sol or her daughter, Juliette. However, the records we studied did provide some information about her husband, Joseph, and the Jewish community in Paris between the wars. This is what we intend to discuss here, as we follow the family's story.
Who was Joseph Ange?
Joseph was a volunteer in the French Foreign Legion for five years, from 1919 to 1924.
He took part in several military campaigns, in Tonkin, Algeria and Morocco. In 1926, he applied for French citizenship which was granted in 1928 based on his involvement in the Foreign Legion. A letter from Joseph to the Prefecture of Paris mentions his reasons for wanting to become a French citizen: his wife-to-be, Speranza, was French and her family would only agree to let her marry him if he too became French. He thus became one of the 30,000 Jews who were naturalized as French citizens.
Joseph became French according to a decree issued in 1928.
While he was married to Speranza, Joseph was convicted several times, in 1933, 1934 and 1937, for "abandoning his family". It appears that he had difficulty managing his finances. According to the prefecture, his monthly income was only 1000 francs while his rent 1500 francs. He was ordered to pay his wife 300 francs a month in alimony to support his son, Jacques, who was born in 1941. The couple got divorced in 1938.
The records of the Commissariat Général aux Questions Juives, (Commissariat-General for Jewish Affairs), an organization that had been appointed to manage his affairs, state that Joseph Ange, a former member of the Foreign Legion, was called up for the war in September 1939 and demobilized in August 1940.
Joseph was deported on the first transport from Drancy camp on March 27, 1942. He was among 1162 deportees on Convoy 1, which departed from the Bobigny railroad station bound for Auschwitz. The deportees were men, French citizens, citizens of German-occupied countries and stateless people. They arrived in Auschwitz at 5:33 a.m. on March 30, 1942.
The Jews from Salonika in Paris
Joseph and Sol were both born in Salonika, Greece, in 1899 and 1906 respectively.
Salonika had been part of the Ottoman Empire until 1912, when Greece annexed the city.
It was a prosperous city with connections to the rest of Eastern Europe. Jews made up the majority of the population until the 1930s. After the Great Fire of 1917, the inner city was redesigned, and at around the same time persecution of Jew and their businesses began. It was forbidden to work on Sundays, for example, so Jews had to work on the Sabbath, which is a holy day of rest. The Jews became a minority in Salonika: there were fewer than 100,000 of them at the beginning of the 20th century but only 53,000 after the First World War.
It was then that the Jews of Salonika, victims of the economic downturns and increasing anti-Semitism, began to migrate to Western Europe and America.
When they arrived in Paris, the Jews from Salonika congregated in the east of the city, mainly in the Marais and Bastille districts. The association for the Cultural Affairs of Jews from Salonika was based on rue Lafayette in the 9th district of Paris.
In the 1930s, there were 250,000 Jews in France, of which 150,000 were in Paris and the surrounding area.
Jews were found in all walks of life. Those living in eastern Paris, like Joseph Ange and his family, were mostly artisans and employees. The Paris Police Department described Joseph as a traveling merchant or a fairground vendor. He was also described as a textile, linen and lingerie salesman. He first lived at 73 rue de la Roquette and then at 140 rue de la Roquette in Paris, in the Bastille district, until he was arrested.
Ici, photo de la Rue de la Roquette au début du XX è s
Source: https://www.cparama.com/forum/paris-rue-de-la-roquette-t4413.html
The area around Bastille was a working class neighborhood at that time, unlike the gentrified area that it is today. There were artisans' workshops and stores on the ground floor of apartment buildings.
 Rue de la Roquette, taken from Rue Popincourt (XI°)
Source: Paris Unplugged https://www.cparama.com/forum/paris-rue-de-la-roquette-t4413.html  
"Sol Cohen, married name ANGE"
According to the records of the Yad Vashem Memorial (which reflects Beate and Serge Klarsfeld's research on deportees in France between 1942 and 1944), Sol was already living in France during the First World War, although no further details are available.
Record of Sol Ange's civil status. Source: Victims of Contemporary Conflicts Archives Division of the Ministry of Defense Historical Service, ref. n° 21P418 370
Sol Cohen married Joseph Ange on February 4, 1939. There is very little information available about her. We only know anything about her through her husband. She was "declared a French citizen by marriage".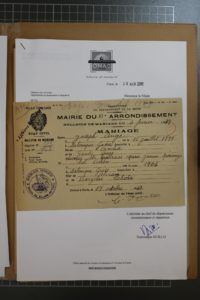 Sol Cohen and Joseph Ange's marriage certificate. Source: Victims of Contemporary Conflicts Archives Division of the Ministry of Defense Historical Service ref. n° 21P418 370
Several people called Sol Cohen lived in the neighborhood, including a schoolteacher who was deported in 1942.
Sol and Joseph had one daughter: Juliette Ange, born on December 1, 1941.
She and Sol were both arrested at their home on July 19, 1944.
The Shoah Memorial has a copy of the search log from the time Sol Ange arrived in Drancy camp. She had 2770 francs taken from her, which was a significant sum of money at the time.
Reference: https://ressources.memorialdelashoah.org/zoom.php?code=309623&q=id:p_248541&marginMin=0&marginMax=0&curPage=0
Convoy 77, the last of the large convoys
This convoy left on July 31, 1944 carrying 1321 deportees, including 330 children, many of whom were arrested on July 19. It arrived in Auschwitz on August 3, 1944.
Yvette Lévy, an Auschwitz survivor, testified as follows:
"Arriving on the crazy planet. That's something you can't forget. The darkness, the floodlights, the men in striped uniforms, the SS yelling, the dogs barking […]"
Among the survivors in 1945, of whom there were 214 from this convoy, there are 146 women. Sol and her daughter never returned after being deported. Their names are inscribed on the Wall of Names at the Shoah Memorial in Paris, on "slab n° 2, column n° 1, row n° 2". 
The German authorities justified the deportation of the 330 children by saying that they it was in retaliation for a "Jewish assassination" in which some German soldiers were killed. In reality, however, they were killed during an ambush set up by Resistance fighters. Thirty cattle cars were brought in to make up the convoy. According to historian Serge Klarsfeld's timeline, from the Drancy transit camp the prisoners were taken to the Paris-Bobigny railroad station, where French SNCF drivers drove them to the border between France and Germany. German drivers then took over. The train passed through Châlons-sur-Marne, Bar-le-Duc, Metz, Saarbrücken, Frankfurt, Dresden, Niesse, and then went on to Auschwitz.
The route taken by Convoy 77 
Source: https://www.yadvashem.org/fr/recherche/convois-de-france.html  
The convoy arrived at the Auschwitz death camp on August 3, 1943.
The youngest child on board was just fifteen days old.
Yvette Levy, a survivor of Convoy 77, recounted the "Selection" process that took place when they arrived at the Auschwitz camp as follows:
"We got to the far end of the platform, […] and we were immediately selected. We were thrown out of the cattle cars, they yelled at us 'Schnell, raus, los', we had to leave everything behind, and practically everyone was sorted right away, the healthy or young ones to the left and the others, the women [who were weaker], the children and the older people to the right. We watched as they formed a line, never thinking that they were going straight to… It was something that really hit us, but we didn't start to realize it until the next day or the day after". 
Sol and her daughter Juliette, who was barely four years old at the time, appear to have lost their lives as soon as they arrived at the camp, or within a few days. Their death certificates, issued by the Paris City Hall, list the date of their death as August 5, 1944, and state that they were "political deportees", meaning that they were deported for political reasons.
After the war, Jacques Ange, Sol's stepson, began searching for his family: his stepmother and his half-sister. They were declared missing in 1947.
n 2021, the French Civil Registration service determined the probable date of Sol's death to have been August 5, 1944.
An decree dated 1945 defines the status of political deportees as follows: "The following are considered to be political deportees: French citizens transferred by the enemy out of national territory, then incarcerated or interned, for any reason other than an infringement of common law. "
In 1948, two categories of victims were defined by law: Resistance members, who were regarded as fighters, and civilian victims, such as Sol Ange.
Links to other sites: