Vida Beniacar, née Vidah Bensignor, 1886 – 1944
 A few comments…
Unlike our fellow students, we were lucky enough to find some of Vida Benyacar's descendants via social networks. As a result, we had access to her family's recollections.
Firstly, there were two of her grandsons. Michel and Bernard who were very supportive. They sent us photos and information, and we were lucky enough to meet Bernard, who came to speak at our school. The two grandsons were very moved by the work we did on the life of their grandmother, whom they did not know. And they even found out a few things!!
Then there was Jean-Jacques Bensignor, the grandson of one of Vida's brothers. He told us that a book had been written by a member of his family to tell their story. It is called La Mare aux tortues ("The Turtle Pool") and was written by Maurice Deunailles. We had the opportunity to talk to his daughter, Corinne Deunailles, who gave a copy of the book to the school library and whose story was very informative, particularly about the period when the family lived in the Ottoman Empire.

Vida's biography
Vida was born on September 8, 1886 in Aydin, in Turkey. Her parents were Zimboul Houly and Samuel Bensignor.
Bensignor is a typical Spanish-Moorish name. Ben means "son of" in Arabic and signor (señor) means "lord" or "sir" in Spanish. Born in Turkey, the Bensignors were educated in French at the Alliance Israélite Universelle (Universal Jewish Alliance) school in Aïdin. They lived in an area of the town known as the Mare aux tortues, about which Maurice Deunailles wrote in his book of the same name.
Samuel Bensignor and Zimboul Houly had five children: 3 boys, Haïm, Isaac and Maurice and two girls, Vida and Judith.

In 1910, Vida's brother, Isaac Bensignor, emigrated to France. He also brought his brother Maurice, from Smyrna, to join him.
The two brothers earned their living as textile merchants at the Porte de Clignancourt flea market and on other markets in the suburbs of Paris. They then opened a hosiery store at 104, rue d'Aboukir, in Paris. In 1920, Isaac and Maurice also brought in their other brother, Haïm Bensignor.
Vida, meanwhile, lived in Aydin. She was married to Nissim Benyacar and had six children. There were five boys, Henri, Samuel, Sadia, Joseph and Maurice one girl, Renée-Allegre.
Nissim was killed at the front during the Greco-Turkish war, which took place between 1919 and 1922. The war drove the family out of Aydin, and they took refuge in Smyrna. Then, in 1924, Vida decided to take her children to join her brothers in France.
In order to blend in in France, Vida had to "Frenchify" her first name, as some other family members had already done. Originally, her first name had an "h" at the end, but to make it more French, the "h" had to go.
The older children had to work to support the family and allow the two younger ones to continue their studies.
Vida lived at 163, rue de Paris at le Lilas, on the outskirts of Paris. This was the last place she lived before she was arrested.
The Greco-Turkish war of 1919-1922 was a dispute between Greece and the Kemalist Turkish revolutionaries. At the end of the First World War, Turkey appeared weak, and the Greeks thought they could extend their sovereignty into Asia Minor. In May 1919, a Greek expeditionary force landed in Smyrna and began conquering the hinterland, penetrating as far as the heart of Anatolia, but the Turks resisted and regained the upper hand in August 1922, reconquering Smyrna on 9 September.
We suppose that it was Mustafa Kemal Atatürk's political agenda that drove Vida out of Turkey. Atatürk established a modern Turkish Republic by introducing new laws that were very strict and restrictive: it was forbidden to speak anything other than Turkish and minorities were tolerated on condition that they took Turkish nationality and obeyed the laws of the newly formed republic. Jewish community life came to an end, and with it an ancestral way of life. In the circumstances, many Jews felt alienated and left the country. Such departures continued until the 1930s.
Most Jews went into exile in France or Belgium because they spoke French, which they had learned in the
Alliance Israélite Universelle
schools. Some went to South America, partly because of the language and also because Hispanic traditions were closer to their own. Judeo-Spanish is very similar to the Spanish spoken in America.
According to her family, Vida, betrayed by her foreign accent, was arrested at her home by the Gestapo on July 26, 1944. However, official documents tell a different story. They say that she was arrested at her daughter Renée-Allègre Habif's home at 224, rue Noisy-le-Sec in Bagnolet.
On the same day, July 26, 1944, Vida was taken to Drancy camp, near Paris. Drancy was an internment and assembly camp for French Jews before they were sent to concentration camps and killing centers. Almost 63,000 people were deported from it. While she was there, Vida met up with some of her family and other people she knew. She was deported, along with 1306 other people, on July 31, 1944 on the last of the large convoys from Drancy to Auschwitz, Convoy 77.
The convoy arrived at Auschwitz on the night of August 3, 1944. Auschwitz-Birkenau was a huge concentration camp and killing center in Poland. More than 1.1 million Jews were murdered there.
The selection took place as soon as the train arrived. Vida never even entered the camp itself. She was killed in the gas chambers as soon as she arrived, at the age of 58.
After the war, on February 2, 1947, Vida's daughter, Renée-Allègre Habif, applied for a certificate to confirm that Vida never returned to France.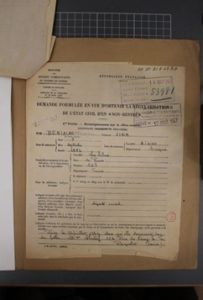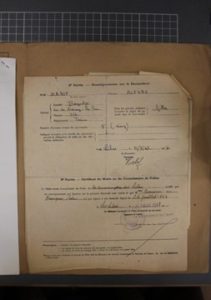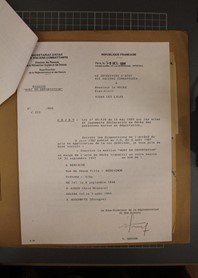 Documents provided by the Convoy 77 association
Later, Vida was officially acknowledged to have died during deportation, in Auschwitz, on August 5, 1944.
Her name is inscribed on the Wall of Names at the Shoah Memorial in Paris.

The names of some other members of Vida's family, who were also deported and died, are also listed.
Firstly, her son
Sadia
, born on April 18, 1913 in Aydin, who was deported on Convoy 76, on June 30, 1944. He was arrested together with his wife,
Hélène
, and his young son,
Michel
, at l'île-sur-Têt in the Pyrénées Orientales department. The whole family was gassed on arrival at Auschwitz. Sadia was 31 and Michel was just 7 years old.
Next is
Maurice
Benyacar, another of Vida's sons, who was born on January 19, 1920 in Aydin was also deported from Drancy on Convoy 76 on June 30, 1944. He survived deportation and later became very active in schools, where he spoke of the unspeakable events that he had witnessed.
Sylvain,
his young son, born on February 15, 1944, was also deported on Convoy 76 and murdered immediately on arrival in Auschwitz.
Lisette
Benyacar, née Zaslavsky, born in 1920, suffered the same fate as her son and was murdered in Auschwitz with many other Convoy 76 deportees.