Eva ISRAEL, born JOSEPH
Photo from the Victims of Contemporary Conflicts Archives Division of the Ministry of Defense Historical Service, in Caen, dossier N° 21 P 464 439
Biographical information
Eva Joseph was born in Cherbourg on October 10, 1890. Her father's name was Charles Joseph and her mother was Élise Lévy. They lived at that time at 43, rue Grande-Rue. This was actually the home of Eva's maternal grandmother.
Eva was the only child her parents would have. They were married on November 19, 1889 in Cherbourg.
His father was not from Cherbourg. He was born in Versailles in 1862 and when he married Élise Lévy, he was living in Paris, where he was a salesman.
Her mother, on the other hand, did originate from Cherbourg. The Lévy family was already well established there. In 1909, Élise's brother-in-law was a city councilor. Élise was born in 1868 and lived with her mother Marie Lévy (née Harburger) at 43 Grande Rue. Her mother ran a fashion business.
Eva's parents were also in the clothing business. At least, her father Charles was described as a "garment merchant", a "fashion merchant", a "trader" and a "hosiery and knitwear merchant" in various administrative and tax documents of the time.
On an unspecified date, but certainly prior to 1906, Eva and her parents left her maternal grandmother's house and moved to 10-12 rue de la Fontaine. There they set up in business in clothing store that had become a hosiery shop, and they lived in the apartment above it, along with a maid.
In May 1909, Eva's mother died. She had just turned 41 and Eva was only 18 years old at the time.
On February 5, 1914, when Eva was 23 years old, she left Cherbourg, where she was still living with her father on rue Fontaine. In Paris, she married Marcel Israël, an industrialist living at 61, boulevard Voltaire.
This was when the bond with Cherbourg was broken, unless Eva kept in touch with her maternal aunts and uncles.
Eva thus became Parisian. She must have had her father near here, since on the 1919 Cherbourg electoral list, Charles Joseph's name is crossed out and there is a note that says "parti à Paris", meaning "left for Paris".
As a couple, Marcel and Eva had four children: Roger, born in 1917, Claude, born in 1920 and twins André and Ginette, born in 1924.
All of the children survived World War II.
Her husband Marcel, on the other hand, died before the war, in 1930.
It is hard to keep track of where the family lived exactly, as they must have moved several times, but always lived in Paris or its inner suburbs, notably in Saint-Maurice in the Val-de-Marne.
It appears that 19 Rue Vieille du Temple, in the 4th district of Paris, was where they stayed the longest.
Around 1941, probably due to the roundups in Paris, Eva moved to Lyon. It is not clear whether her children went with her or not.
In Lyon, she lived at 43 rue Crillon. She probably worked in a shop, but more importantly, according to various post-war official documents, she joined the Resistance using the alias of Marie Issautier.
Unfortunately, she was arrested in the street by the Gestapo and the Militia on July 18, 1944. Initially interned in Montluc prison, she was soon transferred to the Drancy camp, where she was registered under the number 25819. On July 31, she was one of the 1321 people aboard Convoy No. 77 bound for Auschwitz. Sadly, she was never to return.
Eva's death was officially recognized in 1947, the Court having found that she had never returned from Auschwitz. The date of her death was determined to be the day that she was deported, that being July 31, 1944. She was also acknowledged to have been a "racial and political deportee".
>  Link to the video made by student members of the "Convoi77" club at Les Provinces de Cherbourg-en-Cotentin junior high school.
The password is CONVOI77 (copy and paste this password on the landing page, then the video will play).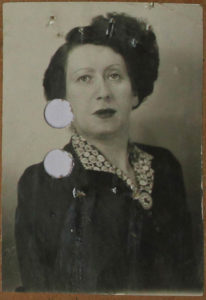 Contributor(s)
Student members of the Convoi77 club at the REP+ Les Provinces de Cherbourg-en-Cotentin junior high school, led by Emmanuel Demy
Links