Louise
Caraco
Before the war
Louise Cadoum Caraco, maiden name Alcabez, was born on April 22, 1911, in Lyon. Her parents were Marco Alcabez and Victoria Funes. This information appears on Louise's repatriation card. Louise had black hair, dark eyes and a round face. Regrettably, we were unable to find any information about her younger years. On July 25, 1927 she gave birth to her first son, Raphaël Caraco, when she was only 16 years old. She had second child, Gérard, on June 25, 1939. He was therefore only 5 years old at the time of the arrest. She was a secretary and bookkeeper and lived in Lyon with her husband Joseph, their parents and their two children at 11, Rue de Turenne, in the 3rd district. They all lived together on the sixth and top floor of the building. 
During the war
The arrest took place on July 13, 1944.  The following information comes from an investigation carried out by a Police Inspector, Charles Cornut on May 4, 1954.  The investigation concerned the arrests of the Louise Caraco and her son.  An eyewitness, Madame Abbois, a neighbor of the Caraco family, stated that Louise was not at home on the day of the arrest. The militia reportedly arrived at the apartment, took away objects belonging to the Caraco family and also took Raphael away with them.  Louise supposedly therefore visited her son in Montluc prison, where the guards arrested her. A second version tells us that Louise and her son were both arrested at the same time. One thing is certain; Joseph Caraco was not at his home at the time of the arrest, andmust have been hiding from the authorities.  Louise was arrested on July 13, 1944, because the family wasJewish, according to Inspector Cornut's report.
Little Gerard, who must have been about 10 years old at the time, could have stayed with his grandparents, who later no doubt went into hiding.
Like her son, Louise was held in Montluc prison. She spent 9 days in jail there before being transferred, on July 22, 1944, to the Drancy camp, on the outskirts of Paris. On the 31st of the same month she was deported to Auschwitz-Birkenau, aboard Convoy 77, together with her son.  The identification number assigned to her was A.16.686, according to her deportation card. Louise survived the harsh conditions of the death camp until January 26, 1945, when the Red Army arrived. According to documents belonging to her, she was taken to Liebau, and this is corroborated by her deportation card. She stayed there until she was liberated, on May 8, 1945. Louise was finally repatriated on June 3, 1945, but she returned home without her son. 
After the war
Louise Caraco was repatriated to France, where she lived at 83, Rue de la Raquette in Paris with her husband Joseph, with whom she was reunited after the war.  Louise was 34 years old at the time.
We have very little information about what he did after she was repatriated.
Until 1952, she lived with her husband at the same address. However, the couple then divorced, and no longer lived at the same address, which is confirmed by Louise's request for Raphael to be granted the status of political deportee, and by the source*. She had moved to 14, rue Henry Duchène, in Paris.
Louise died on September 14, 1954. She was 43 years old.
Sources: Links viewed between March 18 and 21, 2019:
Google books: Die Häftlinge des KZ-Außenlagers Hailfingen/Tailfingen: Daten und Porträts …
Google books: Die Häftlinge des KZ-Außenlagers Hailfingen/Tailfingen: Daten und Porträts …
Déportés de Lyon et sa région
Gedenkstaettenverbund
We had great difficulty in carrying out this research, since information on Louise Caraco was scarce. Indeed, most of the information found on the Internet and in archived records concerned Raphaël Caraco, Louise's son.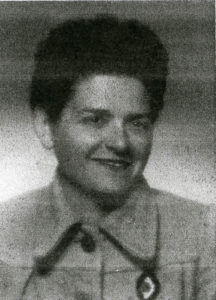 Contributor(s)
11th grade students at the Cité Scolaire Internationale high school in Lyon, under the supervision of their history and geography teacher, Frédéric Fouletier.
References
•
Die Häftlinge des KZ-Außenlagers Hailfingen/Tailfingen: Daten und Porträts
•
Die Häftlinge des KZ-Außenlagers Hailfingen/Tailfingen: Daten und Porträts
•
Les Déportés de Lyon et la Région
•
Gedenkstätten-Rundschau
Links