Rosalie BOGUSCH was born on February 23, 1881 in Hannover, Germany.
——————————————————————————————
Für unsere deutschsprachigen Leser: Die Biographie ist unterhalb der englischen Version auch auf deutsch verfügbar. 
——————————————————————————————–
Her parents, Jakob (Jankiel) Bogusch and his wife Mélanie, née Geismar, lived at n° 14 Neue Straße; her father was a merchant. The Neue Straße was in the Calenberger Neustadt, a neighborhood where Jewish citizens had settled as early as the 16th century.
The house in Hannover where Rosalie Bogusch was born, destroyed during the Second World War (archives of Hannover's Historishces Museum, 1941)
During the Second World War the Neue Straße was totally destroyed and no longer exists. Rosalie's birth certificate, attached to this biography (1° photo hereunder), is in the city of Hannover's archives.
After Rosalie's birth the Bogusch family left Hannover, for on January 17, 1885 her sister, Juliette Bogusch, was born in Gunsbach in Alsace.
Rosalie married Marcel Geismar; they had a daughter, Madeleine Edmée, born on April 24, 1911 in Colmar, where they were living at n° 17 rue du Nord (2° photo second line). Marcel Geismar was killed during the First World War on April 17, 1917. He is buried in the German military cemetery in Colmar.

Madeleine Edmée Geismar married Léon Strauss and lived in Obernai up to the war. The couple adopted a daughter, Lydie, born on November 20, 1936 in Wiesbaden, Germany with the name of Lydia Zitko.
At the start of the Second World War the family had to leave. The Jews, considered undesirable by the Nazis, had to get out of Alsace.
They took refuge in the south of France, perhaps first in Cannes, where they may have lived at n° 14b rue d'Antibes. That house still exists today (1° photo second line).
The address recorded at their arrest was rue de Madrid, in le Cannet.


No corroborated photo of Rosalie has as yet turned up. This one shows Madeleine Edmée and Léon Strauss; perhaps — probably — it is Rosalie to whom Léon is lending his arm (1° photo, third line).

The fate of Rosalie Geismar, Juliette Bogusch, Edmée and Léon Strauss and of their daughter Lydie was reported by a neurologist, Doctor Kruger from Cannes, at the Grasse courthouse trial of the informer that turned Rosalie and her family in, a man [so fittingly] named Finck.
According to a letter written by Doctor Kruger to one of the Strausses' female friends whose name is not indicated, the family was arrested on June 25th in Cannes and was taken to the villa Montfleurie, Canne's Gestapo headquarters. On June 27th the family was transferred to the Hôtel Excelsior in Nice – which was used as a holding prison for those awaiting deportation – and then sent to Drancy.
On July 31st Rosalie Geismar, her sister Juliette, her daughter Admée, her son-in-law Léon Strauss, and her granddaughter Lydie were deported from Drancy to Auschwitz-Birkenau in Convoy 77. They arrived at Auschwitz on August 3, 1944.
According to the testimony of one of Léon's fellow prisoners at Auschwitz, the men were separated from the women and children on arrival. The three women and Lydie were immediately murdered in the gas chambers. The date of their death is August 3, 1944. Léon Strauss was put to work for several weeks in the camp; an infected finger is said to have sent him to the infirmary, and then on October 3rd to the gas chamber.
Biography of Rosalie Geismar_FR (2) (1)
1. Rosalie Bogusch's birth certificate, Hannover Stadtarchiv
2. Her sister, Juliette Bogusch's birth certificate, Gunsbach archives
3. Lydia Zitko's birth certificate, Standesamt Wiesbaden
4. House where Rosalie Bogusch was born in Hannover, destroyed during the Second World War
5. Rosalie Geismar's home in Colmar, 17 Rue du Nord
6. Rosalie Geismar's home in Cannes, Rue d'Antibes 14b
7. Testimony of the neurologist, Doctor Kruger, with photos of Léon and Edmée Strauss, and of their adopted daughter, Lydie Strauss, née Zitko, (the original and its English translation)

————————————————————————————————-
Biografie: Rosalie Geismar, geb. Bogusch

-im Rahmen des Projektes Convoi 77

1881-1944 I Geburt: HANNOVER I Festnahme: NIZZA I Wohnsitz: CANNES, COLMAR
Rosalie Bogusch wurde am 23. Februar 1881 in Hannover geboren.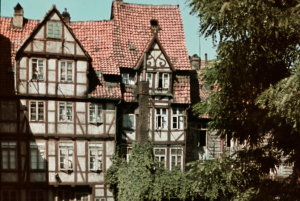 Bild: Das Haus in Hannover, in dem Rosalie Bogusch geboren wurde, zerstört im Zweiten Weltkrieg (Archiv des Historischen Museums Hannover, 1941)


Während des zweiten Weltkrieges wurde die Neue Straße komplett zerstört und existiert heute nicht mehr. Rosalies Geburtsurkunde, die dieser Biografie angehängt ist (erstes Foto links unten), befindet sich in den Archiven der Stadt Hannover.
Ihre Eltern, Jakob (Jankiel) Bogusch und seine Frau Mélanie, geborene Geismar, lebten in der Neue Straße Nummer 14; ihr Vater war Kaufmann. Die Neue Straße lag in der Calenberger Neustadt, ein Stadtteil, in dem sich bereits im 16. Jahrhundert jüdische Bürger niedergelassen hatten.
Nach Rosalies Geburt verließ die Familie Bogusch Hannover, sodass am 17. Januar 1885 Rosalies Schwester Juliette Bogusch in Gunsbach im Elsass geboren wurde.
Rosalie heiratete Marcel Geismar; sie hatten eine Tochter, Madeleine Edmée, geboren am 24. April 1911 in Colmar, wo sie in der Rue du Nord Nummer 17 lebten (Foto rechts, zweite Reihe). Marcel Geismar starb während des ersten Weltkriegs am 17. April 1917. Er liegt auf dem Militärfriedhof in Colmar begraben.
Madeleine Edmée Geismar heiratete Léon Strauss und lebte bis zum Krieg in Obernai. Das Paar adoptierte eine Tochter, Lydie, geboren am 20. November 1936 in Wiesbaden, unter dem Namen Lydia Zitko.
Zu Beginn des Zweiten Weltkrieges musste die Familie fliehen. Die Juden wurden von den Nazis als unerwünscht angesehen und mussten daher das Elsass verlassen.
Sie fanden im Süden Frankreichs Zuflucht, warscheinlich zuerst in Cannes, wo sie eventuell in der Rue d'Antibes Nummer 14 gelebt haben. Das Haus steht noch heute (erstes Foto, zweite Reihe).
Die bei ihrer Verhaftung protokollierte Adresse ist die Rue de Madrid, in le Cannet.
Es ist bis heute noch kein Foto aufgetaucht, das Rosalie mit Sicherheit zeigt. Das erste Bild in der dritten Reihe zeigt Madeleine Edmée und Léon Straus; wahrscheinlich- ist es Rosalie, die Léon den Arm hinhält.
Das Schicksal von Rosalie Geismar, Juliette Bogusch, Edmée und Léone Strauss und ihrer Tochter Lydie wurde von dem Neurologen Doktor Kruger aus Cannes während der Gerichtsverhandlung in Grasse gegen den Informanten, ein Mann namens Finck, der Rosalie und ihre Familie verraten hatte, geschildert.
Laut eines Briefes von Dr. Kruger an eine der Freundinnen der Familie Strauss, deren Name nicht angegeben ist, wurde die Familie am 25. Juni in Cannes verhaftete und zum Gestapo Hauptquartier, der Villa Montfleurie, gebracht. Am 27. Juni wurde die Familie in das Hotel Excelsior in Nizza verlegt, welches als Gefängnis vor der Deportation diente. Von dort wurden sie nach Drancy gebracht.
Am 31. Juli wurden Rosalie Geismar, ihre Schwester Juliette, ihre Tochter Edmée, ihr Schwiegersohn Léon Strauss und ihre Enkelin Lydie im Konvoi 77 von Drancy nach Auschwitz-Birkenau deportiert. Wo sie am 3. August 1944 ankamen.
Der Aussage eines Mitinhaftierten von Léon zu folge, wurden die Männer bei der Ankunft von den Frauen und Kindern getrennt. Die drei Frauen und Lydie wurden sofort 3. August 1944 in den Gaskammern ermordet. Léon Strauss musste für mehrere Wochen im Lager Zwangsarbeit leisten. Auf Grund eines entzündeten Daumens, soll er am 3. Oktober in die Gaskammer geschickt worden sein.
Biographie de Rosalie Geismar_FR (2) (1)
Geburtsurkunde von Rosalie Bogusch, Stadtarchiv Hannover
Geburtsurkunde ihrer Schwester, Juliette Bogusch, Archiv Gunsbach
Geburtsurkunde von Lydia Zitko, Standesamt Wiesbaden
Haus in Hannover, in dem Rosalie Bogusch geboren wurde, zerstört während des Zweiten Weltkrieges
Rosalie Geismars Haus in Colmar, Rue du Nord Nummer 17
Rosalie Geismars Haus in Cannes, Rue d'Antibes Nummer 14b
Zeugenaussage des Neurologen Doktor Kruger mit Fotos von Léone und Edmée Strauss und ihrer Adoptivtochter Lydie Strauss, geborene Zitko (das Original und die englische Übersetzung)


[:pl]
GEISMAR Rosa, née BOGUSCH
Rosalie Geismar est née le 23/02/1881 à Hanovre/Allemagne, rue "Neue Str. 14". Ses parents étaient le commerçant Jakob (Jankiel) Bogusch et sa femme Mélanie, née Geismar qui habitaient rue "Neue Straße 14". La rue "Neue Straße" faisait partie de la "Calenberger Neustadt", un quartier dans lequel les citoyens juifs s'établissaient à partir du XVIe siècle. Pendant la 2e Guerre Mondiale la "Neue Straße" a été complètement détruite et donc n'existe plus aujourd'hui. L'acte de naissance de Rosalie se trouve aux archives de la ville de Hanovre et est jointe à cette biographie.
Après la naissance de Rosalie la famille Bogusch paraît-il, ne vivait plus longtemps à Hanovre, car le 17 Janvier 1885, la soeur de Rosalie, Juliette Bogusch, a été née à Gunsbach en Alsace comme fille naturelle des parents de Rosalie.
La source http://judaisme.sdv.fr/histoire/shh/htrhin/vct-ab.htm indique les informations suivantes concernant Rosalie:
GEISMAR Rosa, née BOGUSCH
Veuve de Marcel Geismar, mort pendant la guerre de 14 – 18. Avant la guerre, Rosa Geismar vivait à Colmar, 17 rue du Nord ; lors de son arrestation elle habitait 14bis rue d'Antibes à Cannes. Fille: Madeleine Edmée Strauss, déportée. JO1992p17700-05. (cd, amC, ecHannover, yv, mdlc, texte; 110206).
Rosalie Bogusch d'Hanovre a épousé Marcel Geismar et vivait avec lui à Colmar, rue du Nord 17. Marcel Geismar a été tué le 17 avril 1917 à la 1ère guerre mondiale. Il est enterré au cimetière militaire allemand à Colmar.
Rosalie et Marcel avaient une fille, Madeleine Edmée Geismar, née le 24 Avril 1911 à Colmar. Plus tard, elle s'est mariée avec Léon Strauss et vivait à Obernai jusqu'à la guerre. Les deux avaient une fille, son nom était Lydie, Lydie n'était pas leur fille naturelle, elle était leur fille adoptée, née le 14 Novembre à Wiesbaden/Allemagne comme Lydia Zitko.
Au début de la 2e guerre mondiale, la famille devait se rendre à Cannes et y habitait rue d'Antibes 14b. Cette maison existe encore aujourd'hui, également la maison à Colmar, voir photos ci-joints. Le déménagement à la France du Sud était conséquence des expulsions par les Nazis en 1940. Pendant cette periode tous les juifs et autres personnes non désirées par les Nazis devaient quitter l'Alsace.
Le sort de Rosalie Geismar, Juliette Bogusch, Edmée et Léon Strauss ainsi que la petite-fille de Rosalie, Lydie a été décrit par le neurologue docteur Kruger de Cannes lors d'un procès devant le tribunal de Grasse contre le dénonciateur de Rosalie et sa famille, nommé Finck. Ce rapport est joint à cette biographie.
Selon le rapport, la famille a été arrêtée le 25 juin à Cannes et a été emmené à la villa Montfleurie, le quartier général de la Gestapo à Cannes. Le 27 juin la famille a été transférée à l'hôtel Excelsior à Nice. Cet hôtel servait à l'hébergement des juifs destinés à la déportation.
Le 31 Juillet, Rosalie Geismar, sa soeur Juliette, sa fille Edmée ainsi que sa petite-fille Lydie ont été déportées de Drancy à Auschwitz-Birkenau avec le Convoi 77. Les femmes sont arrivées à Auschwitz le 3 Août 1944. Vraisemblablement, Léon Strauss était également dans ce transport, même quand ce fait n'est pas documenté. Selon le docteur Kruger Léon Strauss, arrivé à la gare, est marché à pied le chemin au camp d' Auschwitz .
D'après le témoignage d'un codétenu à Auschwitz, lors de l'arrivée, les hommes ont été séparés des femmes et des enfants. Il est fort probable qu' à cause de leur mauvais état général, les trois femmes et Lydie ont été transférées immédiatement aux chambres de gaz ou elles ont été gazées et enfin brulées. Leur date de décès est le 3 aout 1944. Léon Strauss devait encore travailler pendant quelques mois au camp, en octobre il a eu une infection au doigt et a dû se rendre à l'hôpital. Le 3 Octobre il a été tué dans la chambre à gaz.
Biographie de Rosalie Geismar_FR (2) (1)
1. Acte de naissance de Rosalie Bogusch, Stadtarchiv Hannover
2. Acte de naissance de sa soeur Juliette Bogusch, archive de Gunsbach
3. Acte de naissance de Lydia Zitko, Standesamt Wiesbaden
4. Maison de naissance de Rosalie Bogusch à Hanovre, detruite pendant la 2e guerre mondiale
5. Maison d'habitation de Rosalie Geismar à Colmar, 17 Rue du Nord
6. Maison d'habitation de Rosalie Geismar à Cannes, Rue d'Antibes 14b
7. Témoignage du neurologue Docteur Kruger avec des photos de Léon et Edmée Strauss ainsi que de leur fille adoptée Lydie Strauss, née Zitko, original et traduction en anglais