Biography of Szama IGLICKI, aka Serge IGLICKI.
An account dedicated to our descendants – Established by Jean-Luc IGLICKI – December, 2012
Below, photos of Serge IGLICKI at the age of 20, at 48, and then at 65; lower, his wife, Tilly Lilienstein, at the age of 19, then at 46, and finally at 67.
 
 

To the memory of Szama (Serge) IGLICKI – Our dad.

Szama (Serge) IGLICKI was born officially on October 16, 1923, the third child (second son) of David IGLICKI and Perla MILGROM. He was born at IRENA (Poland), which is today incorporated into the city of DEBLIN about 80 kilometers (50 miles) from Warsaw.
We say "officiallyˮ born, because it is said that he accompanied his mother to the Irena Town Hall to declare his birth…




David IGLICKI and Perla MILGROM, the parents of Serge (Szama)
Our grandparents (Alain, Michel, Jean Luc)


There is a discrepancy of two years between his actual birthdate and the official one. He was thus born on October 16, 1921. He was made two years younger so that he could attend class at school at a level he could handle on his arrival in Paris. He thus attended school, not for long, and left without any diploma, able to speak fluent French, but limited to phonetic spelling until the end of his life (just like a creole!)



From what little is known about his life (he was never very loquacious), his family probably fled the anti-Jewish persecutions in Poland (which are known as the Pogroms) when he was about 10 years old.

the origins are located there !
His mother Perla was born at Ryki in Poland in 1894.



His older sister Chaya was born on December 19, 1915 at Irena, Poland.
His older brother Maurice (Moszek) was born on July 10, 1918 at Irena, Poland.
His younger sister Suzanne (Sura) was born on June 15, 1925 at Irena, Poland.
His younger brother Sam (Chaim, Szmul) was born on November 2, 1927 at Irena ? Poland.
They all departed to join their father David, who had left the village for "Americaˮ (Argentina, to be precise) over a year earlier. David (Dvis), born on January 20, 1897 at Zaleschow/Zelechow, Poland, had to break off his journey in Paris, for lack of money or for "love of the city" (?)

A long train trip was in store for them in 1931 — 30 days to cover 1800 kilometers (1118 miles).

Why did it take so long by train? They left Warsaw, where they were living, for Berlin. Taken in by Jewish associations under the authority of the rabbinates, they waited for their finances to be arranged. From Berlin they went via Cologne, where they were held up for a week, to Frankfurt and then to Basel in Switzerland, where they received a very pleasant, even princely welcome!
"Why do you want to go to Parisˮ? "Do you know where you husband is"? Szama's (Serge's) mother was asked. "Here is the address; everything is in order,ˮ she answered.

Once they finally got to Paris they were all seven reunited in a small (12 square meters – 130 square feet) flat.
At that time the adults and the children worked in a garment factory manufacturing "Schmatès" (very approximate spelling). Today we would say "threads or togsˮ).

the workshop of David IGLICKI and his whole team.


The War
In 1939 there were 9 children in the family: Chaya, Maurice (Moszek), Serge (Szama), Suzanne (Sura), Sam (Chaim), Albert, Jeannette, Léon and Lazare.

 
 
 
David and Perla IGLICKI and their family in 1937
From left to right
Back row:
Suzanne, Serge, Chaya, Maurice
In front:
Sam,  Jeannette, David, Albert, Perla, Léon



David, the father, was the very image of the convivial, life-loving character in the Belleville neighborhood. He was liked by everyone.
That is probably what saved him, as he was forewarned of the police roundups and thus evaded the worst.

Of all the siblings only Maurice was taken prisoner in the war. "Where are you from?" asked the German who arrested him. "From Poland,ˮ he replied. "Ah, I see, from Bologna (in French, one can be mistaken – willingly or unwillingly, Pologne and Bologne are very close) c. Okay, go over there…" As they thought he was from Italy, he was not deported, living as best he could for a while as a war prisoner, before escaping rather easily and in good shape.

Serge (Szama) was not so lucky; living in Lyon under the name of Serge Dimoine, he was turned in.
Turned in, imprisoned, grouped with others at Drancy and deported…
"Monsieur Serge IGLICKI, deported to Auschwitz in convoy n° 77, departure from Drancy on July 31, 1944.ˮ Upon arrival in Auschwitz, he was tattooed the registration number B3731 on the forearm. He received another registration number in Dachau : 139262.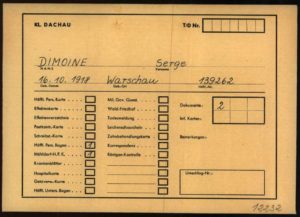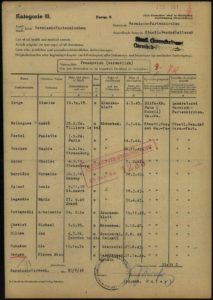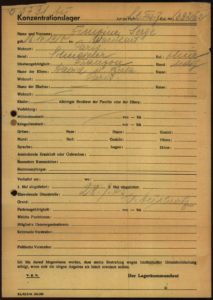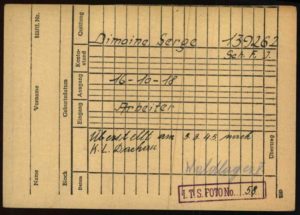 He was to survive this terrible ordeal, along with his campmate, Michel RACIMOR ("Monsieur Michel RACIMOR, deported to Auschwitz in convoy n° 77, departure from Drancy on July 31, 1944ˮ).
In the camp they were assigned the extremely dangerous job of defusing unexploded bombs dropped by the Americans and Russians in the area in 1944-1945.
Mine detectors would not operate and the deportees were used as substitutes. It has been said that Serge (nothing certain, just memories possibly distorted with time)  unloaded remains from the crematorium before volunteering for the mine kommando for an additional bread wedge.
Practically nothing is known of how they lived (or rather survived) at Auschwitz.
It is not known which of the two "mates" saved the other? But the bonds that united them all through their lives would seem to be evidence of an act of this type… in a context where death was a constant presence.
In this period of time, Lili who was to become Serge's wife (and mother of the author), behaved exemplarily during the war. To begin with, she took care of her family by some black market activities (no other way possible). To this end, she would bike from  farm  to farm in the Loir et Cher, sometimes with her little brother Henri.
In Grenoble, she was involved with the résistance, fearlessly afraid of nothing :  she would deliver goods to the maquis  (food ? weapons ?). She was arrested and taken to jail in Grenoble, then in Montluc, Lyons. She was freed from there, and the author never learnt how this was made possible.
Serge and Michel survived the "death marchˮ organized by the Nazis from Auschwitz to Dachau… This march, implemented to bring the prisoners back behind the lines into Germany, had the secondary effect (or perhaps objective) of finishing off the many "living dead". There are at least 800 kilometers (500 miles) between the two camps!

"During these death marches the SS guards brutally mistreated the prisoners. Obeying explicit orders to shoot any prisoner who could no longer walk, they killed hundreds of them on the road. Thousands of prisoners also died of cold, hunger, and fatigue. The death marches were particularly numerous from the end of 1944, for the Nazis were trying to transfer the prisoners inside Germany. The biggest ones began at Auschwitz and Stutthof just before Soviet forces liberated the camps."

Serge, liberated by the Americans on July 16, 1945, was put up in the Lutétia Hotel in Paris.



Ill, virtually crippled, he weighed 30-35 kilos (66-77 lb.) and suffered from a paralyzed leg (or pelvis). He was long considered doomed, until a physical therapist from Lesparre (near Bordeaux), called Doctor CHAPELLAN, though he was only a therapist/chiropractor, saved his life (once again) using some American technology, or perhaps thanks to some form of treatment of which we are ignorant.


On May 1, 1946 Serge married Tilly LILIENSTEIN,
herself born on May 14, 1923
in Germany. 

Their marriage produced three sons:
 
 
The family in 1961 in Bazas (on Serge's 40th birthday):

Alain, born on June 16, 1947, married to Marie-Claude CAZALOU, is the father of three sons: Stéphane, Patrice and Philippe, and has five grandchildren: Alexandra, Vincent, Chloé, Simon and Eloïse.
Michel, born on August 14, 1949, married to Nadia BARBE, is the father of two daughters, Karine et Emmanuelle, and has three grandchildren: Maxime and Axel GIL, and Nolan ADELINE.
Jean Luc (nicknamed Nano), born on May 4, 1954, married to Christine CHAPUIS, is the father of three daughters (Alice, Marie, Cécile). As of this date (December 22, 2012), there are no grandchildren…
 

The three sons in April, 2006:

In back, from left to right
Michel, Jean Luc (Nano), Alain

In front:
Frédérique (Josette), Serge's niece
and her father Maurice, Serge's brother and perpetual sidekick
 

History

Diplomaless, but creative, inventive, hard-working and a born businessman, Serge took Tilly (called Lili all her life) and their three sons to various French towns and villages, where he set up his successive "factoriesˮ for the manufacture of "Schmatèsˮ (clothing):
– Impasse Truillot, in the 11th district of Paris, near the Boulevard Voltaire, at the St Ambroise subway station, a small shop employing 4 or 5 people around 1950-1954. The family lived at the time at n° 10 rue Félix Langlais (subway: Liberté).
– Then the shop on the Impasse Truillot became too little for Serge's projects and he opened a new one at Fontenay-Trésigny, in the Seine-et-Marne department to the east of Paris around 1955 on the premises of a former manufacturer of galoshes on the rue Bertaux. The new factory employed up to 60 people and attracted covetous attention. The company was bought out to make way for a large expansion. He was promised to remain as boss, but soon ousted.
– He moved on to Sissonne in the Aisne department in Picardy in the summer of 1959 to join up with his sister Suzanne, who had set up in business there with her husband Henri (called Riton). Suzanne and Riton soon left Sissonne, leaving Serge alone with an enterprise employing up to twenty people.
The company did well, but the family for some unknown reason lived in poverty.


Lili and Serge – 1960


– Finally, he was called by Gérard Bonnac, the town clerk, to Bazas in 1960-1961, to set up a factory and further local employment. (Lili and Serge had frequently vacationed in the Gironde department since 1950 and had many acquaintances in the area.)
He spent a good part of his life in Bazas.
Serge was an eminent citizen of the town, at the head of the Jahis Company until its decline, then as boss of the "Bazadaise du Vêtement", one of the main employers of the town of 5000. The Société Bazadaise du Vêtement (SBV) would eventually have 120 employees.

Thus, he was a "successˮ. Well-known on the social scene, he was able to offer his family a tranquil life financially, with some ups and downs, and even a few way downs.
When the JAHIS Company was liquidated, all of Serge and Lili's belongings were sold at auction.
Alain recalls that at that auction all their goods, piece by piece were snapped up by the old campmate Michel.
"Uncle" Michel bought everything and put it all back in Serge's home.
Lili dancing with Serge's "campmateˮ:  
Michel
Photo taken in 1966

Serge and Michel were to remain inseparable.
Not a week went by without their seeing each other, with or without their wives' consent.
Until Serge moved to Bazas, 600 km (370 miles) from Paris.
After that they met less often, but they always knew they could count on each other.

Uncle Michel and Marie (RACIMOR)

Marriage of their daughter Madeleine
with Robert

November, 1968



Serge financed his children's studies, and above all kept trying to pull Lili out of her perpetual "fear of tomorrow".
La Bazadaise clothing shop closed in 1975 after Serge's last bankruptcy.
In all his undertakings Serge dealt only with design, sales, and production, leaving management and administration to others (to Lili during their time in Bazas).
Afterwards he held modest jobs in Paris and then in Cluj, Romania. This eventually led him to take Lili (the children were by then independent), to Pessac in the Gironde department, then to Noisy-le-Grand, and finally to Neuilly-sur-Marne, where they lived in a modest apartment from 1977 on.
In February, 1989 Serge had a stroke.
Taken to the hospital at Bry-sur-Marne, he was diagnosed with a fairly advanced generalized cancer.
He ended his days on July 6, 1989 at Juvisy in the Paris area at the age of 68.

The transmission

This "fearˮ runs through the heritage he left his children.
Against their will Serge and Lili saddled us with duffel bags full of fears that are doubtless what is hardest to empty.
Fear of tomorrow (no doubt linked to hunger) has not proved indelible. Yet Lili was always afraid, going so far as to hide envelopes full of banknotes at Sissonne, and then later at Neuilly-sur-Marne. She only rid herself of this fear at Serge's death, when he convinced her that he was leaving her enough to get by each month and with no uncertainty.
The fear of being Jewish and having it known stayed with us for a long time and could well come back. Alain was catechized and found out what "being a Jew" meant only when his schoolmates were getting ready for their first communion, which he was not allowed to do, as Boubée, his grandmother, intervened.
And there was even fear of a return of Nazism and war, so strong that Lili wanted to protect Alain and Michel by enrolling them in Sissonne's brass band, because "the buglers are not put in the front linesˮ.
From them we have also retained a certain skill for self-protection. Safeguarded behind a shell that is hard to crack, we are difficult for others to truly get to know.
Serge, who could appear cold, often authoritative (a bit macho?), and sometimes harsh, had an unbending character and a heart of gold.
Serge and Lili
1969

With a friend: Maguy LOPES


Deeply hidden behind all that was a just, kind, loving person.
Children, grandchildren, great grandchildren (etc…), if you recognize yourselves in these lines, know where you come from! 
It is important to add that Serge and Lili have also transmitted to us (despite what they both lived through) a deep faith in mankind. The way they lived and brought us up in these difficult circumstances made humanists of us. They rejected any hatred for the Germans, unlike Michel, the campmate, and especially his wife Marie, also a former deportee.
Alain, Michel and Jean Luc (Nano) love people and social life, and they probably owe that to Serge and Lili.

They also bequeathed to us a strong sense of family and hospitality. For Serge the family was sacred. It was he who vainly attempted to bring those of his brothers who had fallen out back together.


The IGLICKI family around 1960
From top to bottom, left to right:
Lazar, Léon, Marie Lou, Sam, Lili, Serge, Chaya, Armand, Hélène, Maurice, Albert
Riton, Suzanne, Jacky, Jeannette, Boubée (Perla), David, Claire
Marc, Alain, Nano (Jean Luc), Josette (Frédérique), Patrick, Michel
They have left us nothing, however, of the Judaic tradition, not the least ounce of religious faith, to the point that with zero opposition all three brothers married a goy (non-Jewish).

And yet Serge had been brought up in the Jewish tradition and religion.

Photo of his Bar Mitsvah in 1934

We, his children, still have cultural traces of Judaism, of its tradition and identity, but nothing whatever of the religion.

The man

And paradoxically perhaps (or perhaps not, after all) Serge and Lili, but most especially Serge, bequeathed to us an incredible love of life (written by Jean Luc).
Something like the last frame of "From Here to Eternityˮ…

Alain adds, "and not just love of life, but also the constant desire to relish life.ˮ Particularly Serge, who openly displayed that enjoyment, spending lavishly when he had money or thought he would soon, on cars, restaurants, and everybody else — his sons and their families — on a ski vacation in Cauterets at a time when la Bazadaise was about to go under.
He took us to spend nights at the LUTETIA HOTEL (which had become a luxury Parisian establishment). Perhaps to get even with life?

Serge dancing with Lili

1975

They seem to have loved dancing.



With each glass — and we are downing a few — we propose a toast with a clear and sincere "Lechaimˮ ("Glory to Lifeˮ)!


Partying with his son Nano (Jean-Luc)

1970 .. Carnival?

Nano masquerading as a woman dancing with his dad
It looks like a big hug

Serge and Lili were full of love. He may never (or very seldom) have pronounced the word, but his whole person exuded it. Maybe another bequest?
He was loved by the grandchildren (Stéphane, Karine, Patrice, Emmanuelle and Philippe) and the daughter-in-laws (Marie-Claude, Nadia, Christine) who knew and remember him.

It appears (at least some think and say so) that children choose the parents with whom they want to live their lives.
Jean Luc is happy to have chosen Serge and Lili as his parents. I am what I am because I am Serge and Lili's son.

And should they read these words… I thank them.

Jean Luc (Nano) – December, 2012
Strongly supported by his brothers, Alain and Michel (with thanks)

Family of Alain and Marie-Claude IGLICKI

Alain's reception ceremony of the Order of Merit:

From left to right:
Claire, Philippe, Marie-Claude, Alain, Patrice, Stéphane, Nathalie

Michel and Nadia IGLICKI 
2010
IGLICKI Jean Luc (Nano) family
in December 2009
Cécile, Marie, Christine, Nano,
Alice (today mother to Léo, and soon a small brother or sister to Léo)
Serge and Lilly, your upspring is today comprised of
3 sons
8 grand children
9 (soon 10) great grand children
Nice revenge on life ! Is'nt it ?
[:pl]Biografia Szamy IGLICKIEGO, znanego jako Serge IGLICKI.
Opowieść dedykowana naszym potomkom – Sporządzona przez Jean-Luca IGLICKIEGO – Grudzień 2012
Poniżej zdjęcia Serge'a IGLICKIEGO w wieku 20, 48 i 66 lat; niżej jego żony, Tilly Lilienstein, w wieku 19, 26 i wreszcie 67 lat.

 
Pamięci Szamy (Serge'a) IGLICKIEGO – Naszego taty.

Szama (Serge) IGLICKI urodził się oficjalnie 16 października 1923 r., jako trzecie dziecko i drugi syn Davida IGLICKIEGO i Perli MILGROM. Urodził się w IRENIE (Polska). Obecnie IRENA jest dzielnicą miasta DĘBLIN, znajdującego się około 80 km od Warszawy.
Mówimy, że urodził się "oficjalnie", gdyż wieść niesie, że poszedł z matką do urzędu miasta (lub synagogi) w Irenie, by tam się zgłosić. 




David IGLICKI i Perla MILGROM, rodzice Serge'a (Szamy)
Nasi dziadkowie (Alaina, Michela, Jean Luca)


Między rzeczywistą a oficjalną datą urodzenia są dwa lata różnicy. Urodził się więc 16 października 1921 roku. Celem tego dwuletniego odmłodzenia było umożliwienie mu chodzenia do szkoły w klasie, w której mógłby nadążać za programem nauczania po przyjeździe do Paryża. Poszedł więc do szkoły, nie na długo, i zakończył edukację bez dyplomu, z płynnym językiem francuskim, ale pisownią, która pozostała fonetyczna do końca życia (coś jak język kreolski !).



Według tego, co wydaje się nam, iż wiemy o jego życiu (nigdy nie był zbyt gadatliwy), jego rodzina uciekła przed prześladowaniami Żydów w Polsce (tak zwanymi pogromami) gdy miał mniej więcej 10 lat.


Jego matka Perla, urodzona w 1894 r. w Rykach w Polsce,


starsza siostra Chaja, urodzona 19 grudnia 1915 w Irenie (Polska),
starszy brat Maurice (Moszek), urodzony 10 lipca 1918 r. w Irenie (Polska),
młodsza siostra Suzanne (Sura), urodzona 05 czerwca 1925 r. w Irenie (Polska),
i młodszy brat Sam (Chaim, Szmul), urodzony 02 listopada 1927 r. w Irenie (Polska),
wyjechali do ojca, Dawida, który ponad rok wcześniej wyjechał z wioski do "Ameryk" (konkretnie do Argentyny). Dawid (Dvis), urodzony 20 stycznia 1897 r. w Żelechowie (Polska) zakończył swą podróż w Paryżu, z braku pieniędzy lub "z miłości do tego miasta" ( ?)

W 1931 roku czekała ich długa droga pociągiem: 30 dni, by pokonać 1800 km.

Dlaczego jazda pociągiem trwała tak długo ? Po wyjeździe z Warszawy, gdzie mieszkali, pojechali do Berlina. Przyjęci przez stowarzyszenia żydowskie, w rabinacie oczekiwali na ustalenia finansowe. Z Berlina udali się do Kolonii, po tygodniu czekania, do Frankfurtu, a następnie do Bazylei w Szwajcarii, gdzie przyjęcie było miłe, a nawet książęce!
"Dlaczego chce pani jechać do Paryża?" zapytano matkę Szamy (Serge'a), "Czy wie pani, gdzie jest pani mąż?" "Tu jest adres, a wszystko jest w porządku," odpowiedziała.
Kiedy w końcu przyjechali do Paryża, zamieszkali w 7 osób w małym mieszkaniu o powierzchni 12 m2 w Belleville.
W tamtym czasie rodzice i dzieci pracowali w szwalni. Wszyscy produkowali Schmatès (bardzo przybliżona pisownia) /szmaty/, dziś powiedzielibyśmy "ciuchy"!




Wojna
Rodzina liczyła w 1939 r. 9 dzieci. Byli to Chaya, Maurice (Moszek), Serge (Szama), Suzanne (Sura), Sam (Chaim), Albert, Jeannette, Léon i Lazare.

 
 
 
Rodzina Dawida i Perli IGLICKICH w 1937 r.

Od lewej do prawej

Z tyłu:


Suzanne, Serge, Chaya, Maurice



Z przodu:


Sam,  Jeannette, Dawid, Albert, Perla, Léon




Ojciec (Dawid) był bon vivantem z dzielnicy Belleville. Przyjaźnił się z każdym.
To go prawdopodobnie uratowało, gdyż był ostrzegany przed nalotami policji i uniknął najgorszego.

Z całego rodzeństwa tylko Maurice został jeńcem wojennym – "Skąd pochodzisz ?" zapytał Niemiec, który go aresztował. "Z Polski (Pologne)". "A, z Bolonii (we Włoszech), OK, to idziesz tutaj …". Zamiast zostać deportowany, przeżył lepiej lub gorzej pewien czas jako jeniec wojenny i wrócił w dobrym zdrowiu po łatwej ucieczce.

Serge (Szama) miał mniej szczęścia. Został zadenuncjowany. Był wtedy w Lyonie i podawał się za Serge'a Dimoine.
Zadenuncjowany … uwięziony, wysłany wraz z innymi i do Drancy i deportowany …
"Pan Serge IGLICKI deportowany do Auschwitz w transporcie nr 77 z Drancy dnia 31/07/1944."
Przeżył tę straszną próbę wraz ze swoim obozowym bratem, Michelem RACIMOREM (" Pan Michel RACIMOR deportowany do Auschwitz w transporcie nr 77 z Drancy dnia 31/07/1944").
W obozie mieli podobno do wykonania niezwykle niebezpieczne zadanie rozbrajania niewybuchów (były to lata 1944 -1945, Amerykanie i Rosjanie zrzucali bomby w okolicy).

O ich życiu (a raczej przetrwaniu) w Auschwitz nie wiemy nic albo prawie nic.
Nie wiemy, który z dwóch "braci" uratował drugiego, czy Michel uratował Serge'a, czy Serge uratował Michela, ale wydaje się, że więzy, które połączyły ich na całe życie, są dowodem na tego typu zdarzenie… w otoczeniu, gdzie śmierć była nieustannie obecna.
Serge i Michel przeżyli "marsz śmierci" zorganizowany przez nazistów między Auschwitz a Dachau… Marsz zorganizowany w celu ewakuacji więźniów, którego efektem (jeśli nie celem) było również "dobicie" nielicznych już półżywych ludzi. Odległość między tymi dwoma obozami wynosi przynajmniej 800 km !




"Podczas tych marszów śmierci strażnicy SS brutalnie maltretowali więźniów. Wykonując wyraźne rozkazy zabijania tych, którzy nie mogą już chodzić, strażnicy SS zastrzelili po drodze setki więźniów. Tysiące zmarły również z zimna, głodu i wycieńczenia. Marsze śmierci były szczególnie liczne na przełomie 1944 i 1945 roku, kiedy naziści próbowali przemieścić więźniów do wnętrza Niemiec. Największe marsze śmierci rozpoczęły się w Auschwitz i Stutthofie, na krótko przed wyzwoleniem tych obozów przez wojska radzieckie".
Serge, wyzwolony przez Amerykanów 16 lipca 1945 roku, powrócił do Paryża, do hotelu Lutétia.


Chory, niemal kaleki. Ważył 30 – 35 kg i cierpiał na paraliż nogi (lub miednicy). Długo mówiono, że już po nim, aż fizjoterapeuta z Lesparre w departamencie Médoc, dr. CHAPELLAN (nazywamy go lekarzem, mimo że był fizjoterapeutą – kręgarzem) uratował mu życie (po raz kolejny), dzięki amerykańskiej technologii, a może dzięki zabiegom, które pozostają poza naszym rozumieniem.


1 maja 1946 r. Serge ożenił się z Tilly LILIENSTEIN,
Urodzoną w Niemczech
14 maja 1923 r.

De leur union sont nés trois fils :
 
 
Rodzina w 1961 r. w Bazas (40 urodziny Serge'a) :



Alain, urodzony 16 czerwca 1947 roku, żonaty z Marie-Claude (CAZALOU), jest ojcem trzech synów: Stéphane'a, Patrice'a i Philippe'a oraz dziadkiem 5 wnuków: Alexandry, Vincenta i Chloé, Simona i Eloise.




Michel, urodzony 14 sierpnia 1949 roku, żonaty z Nadią (BARBE), ojciec 2 córek Karine i Emmanuelle oraz dziadek 3 wnuków: Maxime'a i Axela GIL, Adeliny NOLAN.




Jean Luc (zwany Nano) urodzony 4 maja 1954 roku, żonaty z Christine (CHAPUIS), ojciec 3 córek (Alice, Marie, Cécile) bez wnuków … jak na razie (22/12/2012)


 
Trzej synowie w kwietniu 2006 :
Z tyłu od lewej do prawej


Michel, Jean Luc (Nano), Alain



Z przodu:


Frédérique (Josette), siostrzenica Serge'a




I jej ojciec, Maurice, brat i odwieczny kumpel Serge'a.

 
Przebieg kariery
Serge, nie posiadający dyplomu, ale człowiek kreatywny, pomysłowy, odważny i o przedsiębiorczej duszy, przenosił Tilly (nazywaną przez całe życie Lili) i swych trzech synów do różnych miast i wsi we Francji, gdzie zakładał kolejne "fabryki", zawsze po to, aby produkować Schmatès /szmaty/ (czyli odzież):
– Impasse Truillot, w 11 dzielnicy Paryża, w pobliżu Boulevard Voltaire, przy stacji metra St Ambroise, mały warsztat, który zatrudniał 4 do 5 osób około 1950-1954 roku. Rodzina mieszkała wówczas w Charenton-le-Pont, przy 10 rue Félix Langlais (metro Liberté).
– Następnie, ponieważ warsztat przy Impasse Truillot okazał się zbyt mały dla projektów Serge'a, w Fontenay-Trésigny, w departamencie Seine et Marne, około 1955 roku, gdzie zajmował teren dawnej fabryki kaloszy przy rue Bertaux. Fabryka zatrudniała do 60 osób i budziła zainteresowanie. Została sprzedana, aby umożliwić silną ekspansję. Serge'owi obiecano, że pozostanie dyrektorem, ale szybko został usunięty ze stanowiska.
– Następnie latem 1959 roku wycofał się do Sissonne, w departamencie Aisne, aby dołączyć do swojej siostry Suzanne, która założyła tam interes z mężem, Henrim (zwanym Riton). Suzanne i Riton wkrótce opuścili Sissonne, pozostawiając Serge'a samego z firmą, która zatrudniała do dwudziestu osób.
Biznes miał się dobrze, ale rodzina żyła z niewiadomych powodów w nędzy.



Lili i Serge – 1960 r.

– Wreszcie fabryka w Bazas, w latach 1960-1961, gdzie zaprosił go Gérard Bonnac, sekretarz urzędu miasta, który chciał stworzyć miejsca pracy w swojej gminie (od 1950 roku Lili i Serge często wyjeżdżali na wakacje do Gironde i mieli tam znajomych).
To w Bazas spędził dużą część swojego życia.
Serge był tam ważną personą: szefem firmy Jahis, aż do jej upadku, potem szefem "Bazadaise du Vêtement", jednego z dużych pracodawców w mieście (liczącym 5000 mieszkańców). Société Bazadaise du Vêtement (SBV) zatrudniała do 120 pracowników. 
Tam "odniósł sukces": zyskał uznanie społeczne, finansowo zapewnił rodzinie spokojne życie, z wzlotami i upadkami, czasami nawet bardzo niskimi.
Likwidacja JAHIS spowodowała, że wszystkie aktywa Serge'a i Lili stały się przedmiotem licytacji.
Podczas tej licytacji, jak pamięta Alain, wszystkie rzeczy, jedna po drugiej, były kupowane przez "brata obozowego" Michela.
Ten, którego nazywano "Wujaszkiem Michelem" wykupił wszystko i umieścił ponownie w domu Serge'a.

Lili tańczy z  "Bratem obozowym" Serge'a, Michelem
Zdjęcie zrobione w 1966 r.



Serge i Michel pozostali na zawsze nierozłączni.




Nie było tygodnia, żeby się nie widzieli, za zgodą lub bez zgody kobiet.




Było tak, dopóki Serge nie przeniósł się do Bazas, 600 km od Paryża.




Wtedy spotkania stały się rzadsze, ale wiedzieli, że mogą na siebie liczyć.




Wujaszek Michel i Marie (RACIMOR)



Ślub ich córki Madeleine




z Robertem





Listopad 1968 r.




Serge finansował studia swoich dzieci, a przede wszystkim starał się wydobyć swoją żonę Lili z jej odwiecznego "strachu przed jutrem".
La Bazadaise du vêtement zamknęła swoje podwoje w 1975 roku, po ostatnim bankructwie Serge'a.
We wszystkich swoich firmach Serge zajmował się tylko tworzeniem, aspektem handlowym i produkcją, pozostawiając zawsze innym funkcje zarządcze i administracyjne (gdy przebywali w Bazas, zajmowała się tym Lili).
Następne (skromne) prace to Paryż, a następnie Rumunia (Cluj). To spowodowało, że zabrał Lili (dzieci były samodzielne), do Pessac (departament 33), następnie do Noisy le Grand i wreszcie do Neuilly-sur-Marne, gdzie mieszkali w skromnym mieszkaniu od 1977 roku.
W lutym 1989 roku Serge doznał udaru.
Po przewiezieniu do szpitala w Bry sur Marne, lekarze zdiagnozowali dość zaawansowanego raka z przerzutami.
Zmarł 6 lipca 1989 roku w Juvisy, w regionie paryskim, w wieku 68 lat. 
Dziedzictwo 
To właśnie ten « strach » który pozostał dziedzictwem przekazanym jego dzieciom:
Nie robiąc tego umyślnie, Serge i Lili dali nam "plecaki" pełne obaw i to tego chyba najtrudniej się pozbyć:
Strach przed jutrem (na pewno związany z głodem) nie pozostał wyryty na zawsze. Jednak u Lili był on zawsze obecny, do tego stopnia, że ukrywała koperty z banknotami w Sissonne, a później w Neuilly sur Marne. Ten strach nie opuścił jej aż do śmierci Serge'a, kiedy udowodniono jej, ile będzie miała do dyspozycji co miesiąc bez najmniejszej niepewności.
Strach przed byciem Żydem i pokazywaniem tego pozostał w nas przez długi czas i być może nadal pozostaje. Alain chodził na religię do kościoła i nie odkrył, co to znaczy być Żydem, dopóki jego koledzy nie przygotowywali się do Pierwszej Komunii, czego nie mógł uczynić (interweniowała babcia Boubée).
A nawet strach przed powrotem nazizmu i wojną. Tak bardzo, że w Sissonne Lili chciała zapisać Alaina i Michela do orkiestry dętej ("trębacze nie idą w pierwszej linii").
Pozostała nam tez po nich swego rodzaju "sztuka" samoobrony. Jesteśmy schowani za trudną do skruszenia powłoką i innym trudno jest dowiedzieć się, kim jesteśmy naprawdę.
Serge, z pozoru może chłodny, często autorytarny (macho?), a czasem surowy, miał szlachetny charakter i złote serce. 

Serge i Lili
1969



Z przyjaciółką : Maguy LOPES

Za tym wszystkim krył się (głęboko schowany) bardzo sprawiedliwy człowiek, pełen dobroci i miłości.
Dzieci, wnuki, prawnuki (etc…), jeśli odnajdujecie się w tych kilku słowach, wiedzcie, skąd pochodzicie !

Należy dodać, że Serge i Lili również przekazali nam (pomimo tego, czego doświadczyli oboje) wielką wiarę w człowieka. Ich sposób życia, wychowywania nas w tym trudnym kontekście uczynił z nas humanistów. Nie zachowali "nienawiści do Niemców", jak to uczynił Michel ("brat obozowy"), a zwłaszcza Marie, jego żona, która również była deportowana.
Alain, Michel i Jean Luc (Nano) kochają ludzi i życie towarzyskie, co prawdopodobnie zawdzięczają Serge'owi i Lili.
Przekazali nam także rodzinnego ducha i gościnność. Dla Serge'a rodzina była święta. I to on na próżno próbował pogodzić ze sobą tych swoich braci, którzy się na siebie gniewali.



Rodzina IGLICKICH około 1960 r.
Od góry do dołu i od lewej do prawej:
Lazar, Léon, Marie Lou, Sam, Lili, Serge, Chaya, Armand, Hélène, Maurice, Albert
Riton, Suzanne, Jacky, Jeannette, Boubée (Perla), David, Claire
Marc, Alain, Nano (Jean Luc), Josette (Frédérique), Patrick, Michel
Natomiast nie przekazali nic z tradycji żydowskiej, nawet grama wiary. Do tego stopnia, że każdy z trzech braci poślubił bez wahania gojkę (nie-Żydówkę). 




Serge był jednakże wychowany w tradycji i religii żydowskiej.



Zdjęcie z bar micwy w 1934 r.



My, jego dzieci, zachowujemy kulturowe ślady żydowskości, tradycji, tożsamości, ale nic z religii.

Człowiek 
Paradoksalnie (a może nie tak bardzo) przede wszystkim Serge, ale na pewno również Lili, przekazali nam w dziedzictwie niesamowite umiłowanie życia (pisze te słowa Jean Luc).
Trochę jak w ostatnim ujęciu w filmie "Stąd do wieczności" …

Alain dodaje: "I nie tylko umiłowanie życia, ale także stałe pragnienie, by z niego korzystać ". Zwłaszcza Serge, który ostentacyjnie okazywał tę radość, wydając i nie licząc pieniędzy, kiedy miał środki lub myślał, że wkrótce je zdobędzie: samochody, restauracje i wszyscy – jego synowie i ich rodziny – w hotelu podczas ferii w Cauterets, podczas gdy La Bazadaise była na skraju przepaści.
Zabierał nas na nocleg do hotelu LUTETIA (obecnie luksusowy paryski hotel) … zemsta na życiu? Być może !

Serge tańczy z Lili

1975



Taniec wydaje się być pasją





Przy każdym kieliszku, a było ich parę, wznosimy toast szczerym "Lechaim" ("Chwała życiu").

Świętuje ze swoim synem Nano (Jean Luc)



1970 .. Karnawał ?





Nano przebrany za dziewczynę tańczy ze swoim tatą




Wygląda to jak przytulanie.

Serge (i Lili) byli pełni miłości. Jest to słowo, którego być może nigdy nie wypowiedział (lub czynił to bardzo rzadko), ale które emanowało z jego osoby. Może kolejny element dziedzictwa ?
Wnuki (Stéphane, Karine, Patrice, Emmanuelle i Philippe) i synowe (Marie-Claude, Nadia, Christine), które go znały i nadal pamiętają, uwielbiały go.
Ponoć dzieci wybierają rodziców, z którymi spędzą życie (przynajmniej niektórzy tak myślą i mówią).
Jean Luc jest szczęśliwy, że wybrał Serge'a i Lili na rodziców. Jestem tym, kim jestem, bo jestem synem Serge'a i Lili. 
A jeśli czytają te słowa … dziękuję im za to

Jean Luc (Nano) – Grudzień 2012 r.
Z wielkim wsparciem swych braci Alaina i Michela (którym dziękuję)

Rodzina IGLICKICH Alain i Marie-Claude



Wręczenie Alainowi orderu zasługi: 2005



Od lewej do prawej:


Claire, Philippe, Marie-Claude, Alain, Patrice, Stéphane, Nathalie



IGLICKI Michel i Nadia
2010

Rodzina IGLICKICH Jean Luc (Nano)
w grudniu 2009
Cécile, Marie, Christine, Nano, Alice