Chanja FRESCHEL

Chanja or Clara, whose maiden name was Barth, was born on February 24, 1896 in Lesko, Poland, a small town in the Podkarpackie region of the Austro-Hungarian Empire. There was probably a large Jewish community there, as there is still an old synagogue and a Jewish cemetery. Her father, Hersch Barth, was a fur trader who travelled with his father to the markets as far away as Leipzig.
Chanja was about four years old when her father moved to Zurich.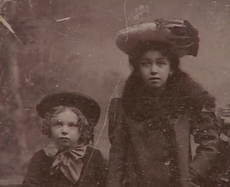 Chanja as a young girl
Chanja married Joseph Freschel in Zurich in March 1918. She was not working at the time. Their daughter Ruth was born in Zurich on January 29, 1919.
Chanja and her family then lived in Strasbourg and then moved to Marseille, in 1940. Chanja was interned in three camps: Les Milles and Rivesaltes in August and September 1942, then Drancy from July 17 to 31, 1944.
She was killed in the gas chambers as soon as she arrived in Auschwitz in early August 1944.
Chanja's mother, was also living in Marseille during the occupation. She avoided being deported and died in 1946. Her daughter Ruth survived. Chanja's daughter Ruth was deported but survived. She gave many testimonials towards the end of her life, both out of loyalty to her parents and because she wanted to fight against Holocaust denial.
Nicolas Rouzet, LP Don Bosco