Ruth FRESCHEL
January 19, 1919: Ruth was born in Zurich, in Switzerland. She was a Polish citizen.
Ruth's parents, Joseph and Chanja, had recently got married in Zurich. Their families both came from the same area of Poland, Galicia. Ruth's parents had lived in Zurich since before the First World War, and their families had lived there since around 1900.
Her mother was born in Lesko in 1896 and her father in Ustrzyki Dolne in 1886.
Ruth's paternal grandfather, Moshe Freschel, was a textile merchant and her maternal grandfather, Hersch Barth, was a fur trader.
September 1939: Ruth was living in Strasbourg with her parents at 16, Boulevard de la Victoire. It was a middle-class neighborhood. She was studying English, her father was a salesman, and her mother did not work. When war was declared, they were evacuated from Strasbourg to move them further away from Germany and a possible front-line area. They ended up in Tournon St Martin, in the Indre department of France.
Her father joined the military (the Polish Legion, which fought in France alongside the French army). Had he not joined up early on, in 1939, he would probably have been interned as a "foreigner", and his family would also have been placed under surveillance.
Summer 1940: After the German invasion, Ruth's father, Joseph, was demobilized. He decided to go and work with his brother Abraham. His brother had been living in Marseille since 1930 and was a trader, antique dealer and decorator. Ruth Freschel and her parents moved to 7, rue de Savoie in Marseille.
August 1942: The French police arrested Ruth for the first time, at home, between 3 and 4 am. She was taken to the police department in the former Bishop's Palace.
"At the bishop's palace, to this group of young Jews who were joking among themselves, a policeman said: "Oh, they'll soon be done showing off. Afterwards, she was driven to Les Milles in a canvas-covered truck. It was already daylight when she arrived at the camp" (article in the French journal, L'Humanité, August 29, 1995).
August 1942, in Les Milles camp: "The camp was fairly full up. Separate dormitories for men and women. In the corridors huge garbage cans were overflowing. (letter from Ruth Freschel dated November 13, 1982 cited by André Fontaine in Le camp d'étrangers des Milles 1939-43 (The foreigners' camp at Les Milles 1939-43), Edisud).
"I remember a huge courtyard, a sense of utter mayhem, sunshine and dust, dust and emptiness, and most of all an overwhelming odor of melon. Melon skins were overflowing from the garbage cans, and I've had that smell in my nose ever since." (French journal, L'Humanité).
 The family was interned in the Les Milles camp, and then three weeks later they were sent to the foreigners' camp in Rivesaltes, in the Pyrenees "grey and sinister concrete blocks". The family was then released because the father had been in the Polish Guard.
"My father, who at the age of 59 had joined the Polish Legion, had been in the Coëtquidan camp, (…) thought he could save me from deportation." (letter cited by André Fontaine).
1942 – 44 : As of November 1942, Marseille was occupied by the Germans. The family was wary and lived more or less in hiding. As a Jew, Ruth was no longer allowed to study at university, since this was forbidden by the Vichy regime's laws. In order to earn a living and support her parents, she taught English in a Catholic school.
June 30, 1944 : Ruth was arrested by some militiamen and members of the PPF (the Parti Populaire Français, or French Popular Party, which was founded by Jacques Doriot in 1936).
Ruth had been reported by a young man from a good family in the Saint-Giniez district who was thus able to earn some easy money (prosecuted and sentenced to a long jail term, he was on the run at the time of the Liberation and was probably pardoned later).
"Anti-Semitism has no era, no frontiers… The police had a list of all the Jews; if you gave the name of a Jew to the Gestapo, on rue Paradis, they gave you money…" (Ruth's testimony to some high school students in the 1990's).
Ruth was then taken to the Gestapo headquarters on rue Paradis, and then to the Baumettes prison. And Ruth's arrest led to her parents' being arrested too. Ruth Freschel knew that she was indirectly to blame for their arrest. She probably struggled with a sense of guilt for the rest of her life.
July 16 1944 : Ruth left for the Drancy transit camp (in a suburb in the north of Paris – of the 75,000 Jews deported from France, 63,000 passed through Drancy).
July 31, 1944 : Departure to Auschwitz
Ruth's arrival in Auschwitz on August 5:
"I fell asleep and I didn't have nightmares, because I was already living the nightmare… I was no longer afraid, because they couldn't arrest me anymore. I was right there where I was supposed to be."
"In Auschwitz, I was there physically but not in spirit; I was in Marseille. I did not refuse to be in the camps, I did not believe in them."
"They did everything they could to humiliate us, but we never saw ourselves as humiliated."
The family was split up on the railroad platform.
Ruth's mother was probably gassed right away, and her father, although initially declared fit for work, immediately fell sick. Ruth survived, and with no news of her parents, she was transferred to another camp in Czechoslovakia.
"I never thought that I would die there. I knew that I would come back to Marseille, that the war would end".
Liberated by the Soviet army, she returned to Marseille in the spring of 1944. She went to stay with an aunt, where she regained her strength, just a stone's throw from the sea, on the cliff tops on the Corniche, at number 211.
"Back in France, some people said that the weather was fine, others that it was raining, but me, I didn't know, I wasn't there. When the camps were liberated, no one took care of us".
Ruth continued to hope for quite some time that her parents would return home.
She later became a French citizen and an English teacher.
In the 1970s
She wrote to the revisionist historian, Robert Faurisson (who denied the existence of the gas chambers). He replied to her in a contemptuous tone, rebuking her for a grammatical term that she had used in her letter. In his opinion, Ruth Freschel's testimony does not prove that the gas chambers actually existed.
In the 1990s, Ruth Freschel spoke of her experiences to schoolchildren. She wanted to testify to pay tribute to her parents, despite saying "nothing will bring back the dead". Why didn't she do it earlier?
"When you are Jewish, foreign and poor, you feel guilty for even existing. Now it's different. I'm angry, I never stop kicking and stamping. In fact, it wasn't very long ago that I became an adult"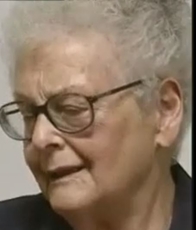 June 24 2006: Ruth died in the 6th district of Marseille.
Nicolas Rouzet, LP Don Bosco