Joseph FRESCHEL

Joseph Freschel was born on November 1, 1886 in Ustrzyki Dolne. He was the son of Moshe Freschel, a textile merchant and peddler, who moved to Zurich around 1900, and lived at 61 Zeughaustrasse.
During the First World War, Joseph, who was still very young, was drafted into the Austro-Hungarian army. He deserted and went back to Switzerland.
He got married to Chanja (Clara) in Zurich on March 14, 1918.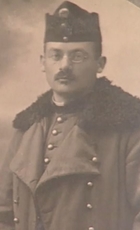 Joseph FRESCHEL as a soldier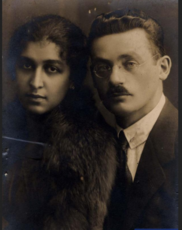 Joseph and Chanja FRESCHEL

Their daughter Ruth was born on January 29, 1919.
They moved to Strasbourg at the end of 1922. Joseph was a merchant and then a commercial traveler. They lived on rue du Polygone, at 15 place Saint-Étienne, and then at 16 boulevard de la Victoire (from 1932 through 39).
In 1939, Strasbourg was evacuated. The family moved to Tournon St Martin in the Indre department of France. Joseph, although he was already getting on in years, joined the Polish Legion. He hoped that this would prevent his wife and daughter from being interned as foreigners.
After leaving the Coëtquidan camp, he served for eight months in the 1st and 3rd divisions and was then caught up in the debacle at Dunkirk. He was demobilized in Châteauroux on July 20, 1940. A certificate states that he had served under the French flag "with honor and loyalty" as a private. This certificate also gives a physical description of him (height 5'6", weight 170 pounds, oval face, grey-blue eyes, greying hair, brown eyebrows and good teeth).
He moved with his wife and daughter to rue de Savoie in Marseille. He went to work with his brother Abraham, who had been living in Marseille for ten years and was a trader, antique dealer and decorator. Abraham lived on rue de Madagascar and had a warehouse on cours Pierre-Puget.
After his daughter was arrested, Joseph was interned in the Les Milles camp in August 1942, and from there they were sent to the Rivesaltes camp for three weeks.
Because he had served in the military 1939-40, he and his family were released from Rivesaltes.
On December 23, 1943, his brother Abraham was arrested. He was transferred to Drancy and then deported to Auschwitz on March 7, 1944 on Convoy 69. He escaped being selected for the gas chambers and worked as a nurse. Abraham died on April 5, 1945 in Nordhausen (from typhoid fever or by being shot by a Nazi?).
On June 30, 1944, Joseph's daughter, Ruth, was arrested after being reported by a young man from a good family in the Saint-Giniez neighborhood. Her arrest also led to the arrest of Joseph's wife, Chanja, at their home on rue de Savoie. When Joseph heard that they had been arrested, he turned himself voluntarily at Les Baumettes penitentiary, where he too was imprisoned.
From July 16 through 31, they were interned in Drancy camp, north of Paris.
His wife, Chanja, was killed in the gas chambers on arrival. Only their daughter Ruth survived. Ruth hoped for a long time that her parents would return to France. Back in Marseille, she received a letter from Nice, dated December 26. A man named Konnovsky, who had survived deportation and was staying at the British Hotel, said that Joseph had been declared fit for work when he arrived at Birkenau station. At the beginning of September 1944, the SS began to appoint Kommandos, but Joseph, who suffered from edema in his legs, was sent to the infirmary.
"He stayed there for two weeks, I thought he was happy, brought him a few cigarettes and he was quite well cared for. Then one day when I went to see him, I couldn't find him; he had been selected to go to a so-called convalescent camp with some other patients. I never heard from him again. I know that there are still a lot of deportees in Russia and even in Germany, who are either sick or stateless, so I advise you to keep hoping and I also wish that he will return soon."
Nicolas Rouzet, LP Don Bosco