Elisa SCHMOLL
Elisa's life
Elisa was born on November 7, 1888 in a little village called Dasle, in the Doubs department of France.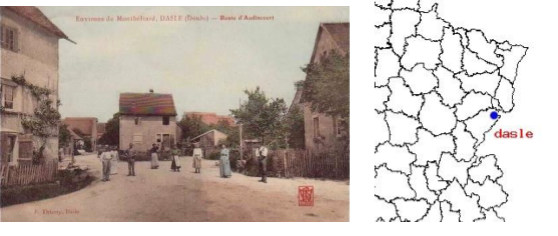 Source : Racinescomtoises.net 
She was a French citizen and a Jew. The archives of the Swiss newspaper "L'Impartial", and the records in the Civil Registry, provided us with the limited information that we have about Elisa's family.
Her family
Elisa was the daughter of Constant Schmoll and Judith Schmoll, whose maiden name was Meyer.
When she was born, Constant Schmoll was 30 years old. He was a trader. His wife, Judith Schmoll was 29 and did not work.
Elisa had 6 brothers and sisters that we know of:
Lucien Schmoll, born on August 24, 1887 in Dasle and died in 1967.
Henri Schmoll, born on Ocober 15, 1889 and died on November 18, 1889.
Albert Schmoll, born on August 14, 1890 and died on October 16, 1926.
Lucie Schmoll, born on July 22, 1894 and died on February 11, 1895.
Madeleine Schmoll, born on November 12, 1898 and died on January 30, 1983.
Marthe Schmoll, born on November 15, 1900 and died on November 6, 1979.
She also had an aunt called Brunette Levy. She was Elisa's only aunt as far as we know. They lived together at 144, boulevard Suchet in the 16th district of Paris. It may seem strange that they lived together under the same roof, but Brunette, who was 71 years old, was a widow, while Elisa never married and did not work. It was probably to avoid the isolation of living alone and perhaps also for financial or family reasons that they both lived at Brunette's house.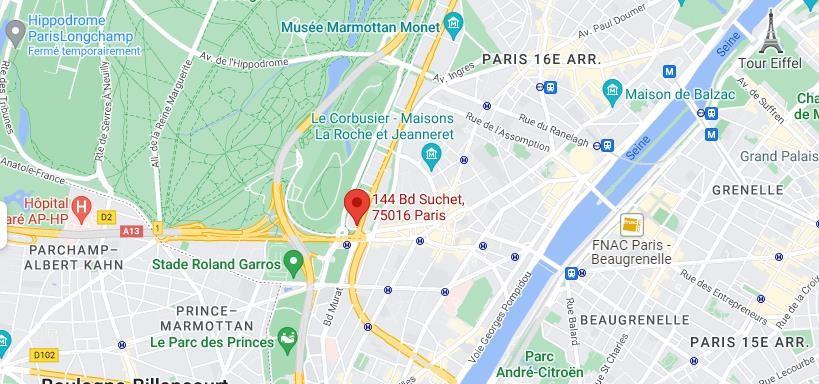 Google Maps
It seems that Elisa lived with her aunt Brunette for several years before the war, but no further details are available. 
The story of her time as a deportee
Elisa was arrested at home in her aunt's house, on July 27, 1944 at 1:45 a.m. Several witnesses have testified to what happened.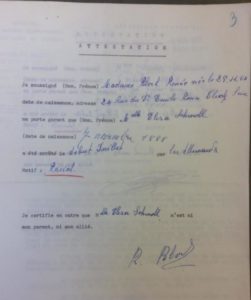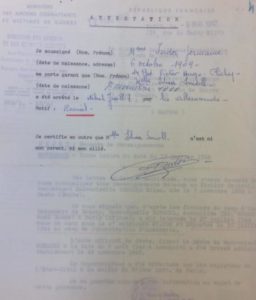 Mme Renée Bloch's witness statement        Mme Isidor Jermaine's witness statement
Elisa, together with her aunt Brunette, was immediately interned in Drancy camp, where she was given the number 26002. She spent only a short time in Drancy since she was deported on Convoy 77, which left on July 31, 1944 for the Auschwitz concentration camp.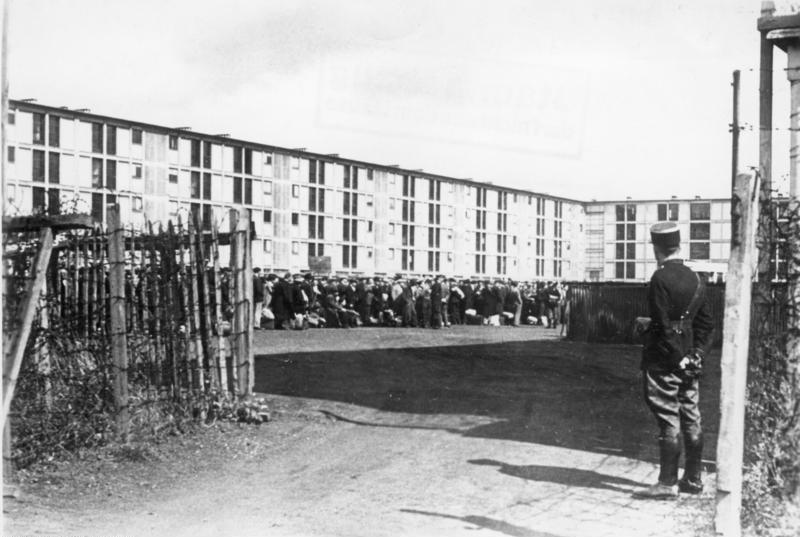 Drancy internment camp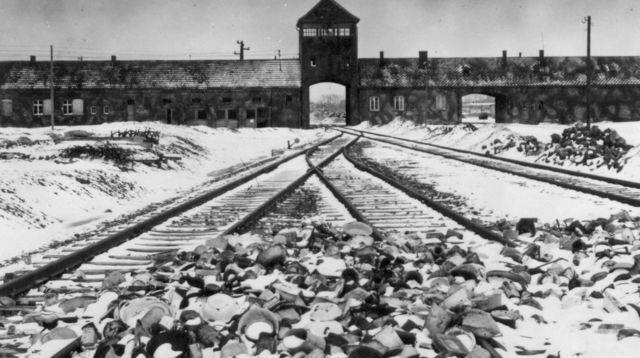 Auschwitz concentration camp 
Elisa died there as soon as she arrived, on August 5, 1944.
The administrative formalities
It was Elisa's brother Lucien who took care of the administrative formalities after her death.
We analysed several documents drawn up by Lucien:
A request for Elisa to be granted the civil status of a "non-returnee" in 1948 in order to determine the date of her death.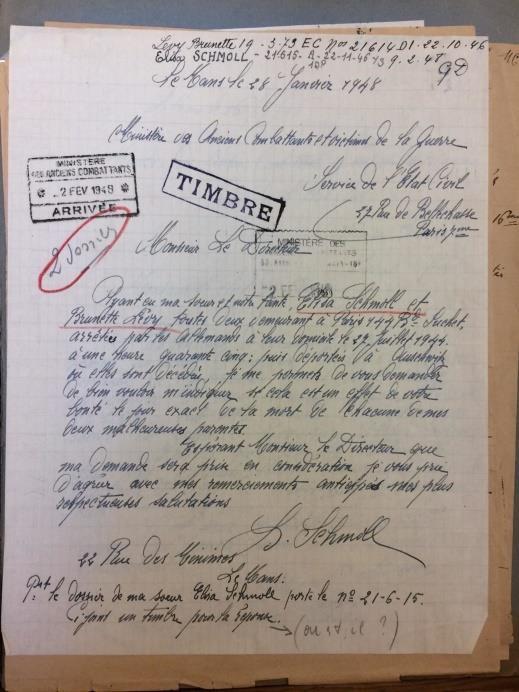 An application to have Elisa recognized as having been a political deportee (i.e. deported for political reasons). This is a 6-page document that was submitted in 1961.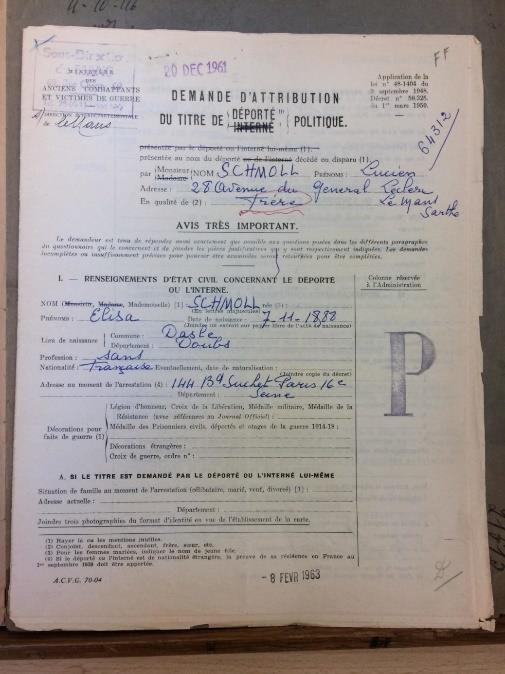 A letter from the head of the Bureau des Fichiers et de l'Etat civil des déportés (Office of Files and Civil Status of Deportees), who replied to say that there was no formal proof of the death of Elisa and her aunt, but that death certificates had been issued "for the sole reason that, according to the documentation gathered on the Auschwitz camp, these two people, like all Jews over 55 years of age and under 14 years of age, were not listed in the arrival registers of this camp and must therefore have been exterminated along with all the other deportees of that age".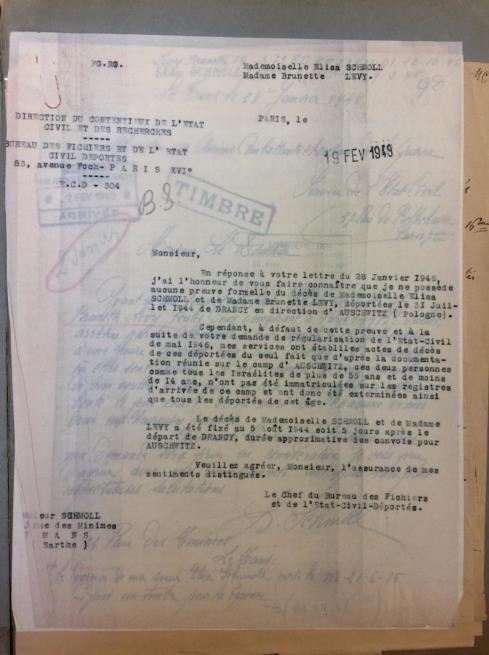 Elisa, who was nearly 56 years old, and her aunt Brunette, who was 71 years old, were both killed on arrival. The approximate journey time to Auschwitz was 5 days. The authorities determined the date of death to be August 5, 1944.
A handwritten letter from Lucien that confirms that Elisa was single.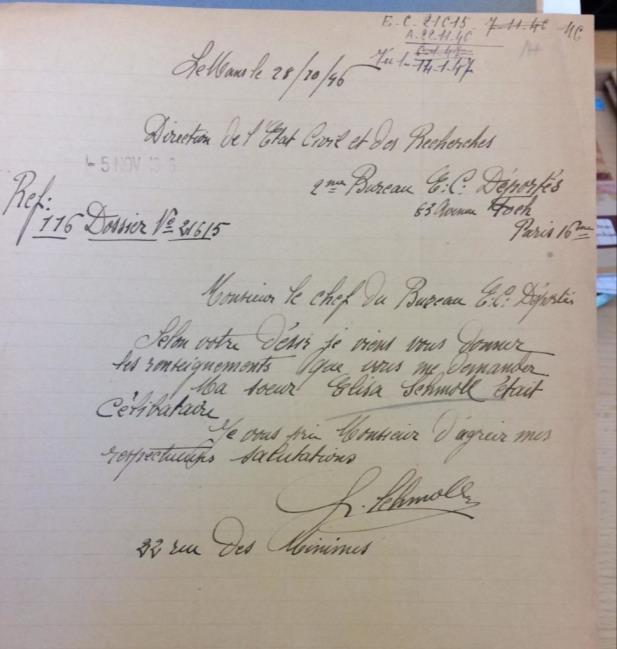 Unfortunately, we were unable to find any further information about Elisa's life. The fact that she did not work and never married meant that many of the usual sources were not available to us.
Sources