Maurice ZEITOUN (1898 – 1944)
Maurice Zeitoun was born in Cairo on January 23, 1898. He was the eldest of seven boys, one of whom was my father Édouard, who became a veterinarian.
Maurice shared a student room in 1912 and 1913 with Elian Finbert, a wildlife writer who in 1936 created the collection « Scènes de la vie des bêtes » for the publisher Albin Michel.
Elian was a francophone man of letters of Jewish origin, born in 1899 in Jaffa, at that time in Palestine.
The Zeitoun and Finbert families were already connected, as they were neighbors in Tantah, Egypt, where my father Édouard was born.
Maurice studied medicine, and then in 1936 he obtained a position in Egypt as chief editor of the medical journal Revue Pratique des Maladies des Pays chauds (Journal of Applied Medicine for Tropical  Diseases).
Maurice arrived in France before the war. During the German invasion he took shelter from the air raid alerts in Elian's cellar on the boulevard Murat in Paris. Elian advised him to leave Paris in May, 1940. He himself, quite ill, left fot the Free Zone with the Sequana Publishing house (Julliard) for which he worked, at the beginning of June 1940.
He urged Maurice to join him in the Free Zone at Céret.
But Maurice remained and worked in Puteaux for a cosmetics laboratory, the Zizine Laboratory.
His friend, Doctor Tagger, relates Maurice's resistance activity, notably the distribution of fake I.D. cards and fake medical certificates allowing young men to avoid compulsory work service in Germany.
Maurice was picked up in a roundup at the St-Lazare train station and taken away by the Gestapo as an Egyptian, and thus British citizen. He was deported from Drancy to Auschwitz  in one of the last convoys, n° 77, on July 31, 1944.
He may have been killed soon after his arrival on August 5, 1944.
Daniel Urbejtel, a survivor of that convoy who dit not know him, has no recollection of having seen him.

Christian Zeitoun, fils de son frère Edouard.
—————————————————————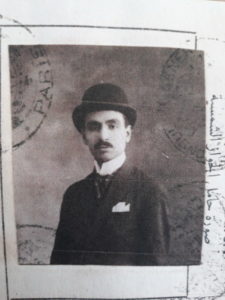 موريس زيتون (1898-1944)
1898- 1944/ الولادة : مصر، القاهرة / الاعتقال : باريس / الإقامة : مصر، القاهرة، طنطا
ازداد موريس زيتون بالقاهرة في 23 يناير 1898. وهو الابن البكر وسط سبع إخوة ذكور من بينهم كان يوجد والدي، إدوارد، الذي أصبح طبيبا بيطريا.
عاش موريس سنتي 1912 و1913 بغرفة للطلبة مع إيليان فيبر، وهو كاتب ألّف عن الحيوانات، وهو من سينشئ سنة 1936 سلسلة "مشاهد من حياة الحيوانات" عند الناشر ألبان ميشال.
إيليان كان أديبا فرانكفونيا من أصل يهودي، ازداد سنة 1899 بيافا في فلسطين كما كانت تسمى آنذاك.
العائلتان فيبر وزيتون كان لهما ارتباط سابق لأنهما كانتا متجاورتين في طنطا بمصر، حيث ازداد والدي.
تابع موريس دروسا في الطب، وحصل على منصب الكاتب العام لهيئة تحرير "المجلة التطبيقية لأمراض البلدان الحارة" بمصر عام 1936. وصل إلى فرنسا قبل الحرب، خلال الاجتياح الألماني. وكان يختبئ حين تُطلق الإنذارات الجوية في قبو منزل صديقه إيليان بشارع موران في باريس. نصحه هذا الأخير بمغادرة باريس منذ ماي 1940. بل هو نفسه كان جدّ مريض ولجأ إلى المنطقة الحرة، مثل منشورات سيكانا (جوليار) التي كان من ضمن طاقمها، في بداية يونيو 1940.
وقد حثّ موريس أن يحذو حذوه ويلتحق به في مدينة سيريت، بالمنطقة الحرة. لكن موريس فضّل البقاء حيث كان، واشتغل بعد ذلك في بيتو (القريبة من باريس) في مختبر لمواد التجميل، وهو مختبر زيزين.
يحكي صديقه الدكتور تاغير أن موريس قام ببعض أعمال المقاومة، من خلال توزيعه لبطائق هوية مزوّرة وشهادات طبية مزورة مكّنت البعض من الإفلات من "مصلحة العمل الإجباري بألمانيا".
لكن موريس سيُلقى عليه القبض من طرف الجستابو في غارة للشرطة على حي سان-لازار. اعتُبر مواطنا مصريا، مما يعني بريطانيا، ورُحل في إحدى أواخر القوافل، وهي القافلة 77، نحو أوشفيتز عبر درانسي.
ويمكن أن تكون قد تمتْ تصفيته بعد وقت قليل من وصوله يوم خامس غشت 1944.
دانيال أوربجتيل، أحد الناجين من هذه القافلة والذي لم يكن يعرف موريس، لا يتذكّر أنه رآه.
كرستيان زيتون، ابن أخيه إدوارد
المساهمون : كريستيان زيتون، رولان فلاكسو وألفريد ريجينسبورجر