René Broder
René Broder was the son of Chaja Malka Broder, née Judkowicz, born in Pizedborg in Poland on April 14, 1897 and Salomon Broder, born in Zarki in Poland on August 26, 1879.
Salomon Broder had previously been married to Anna Gutman, who had died in 1921.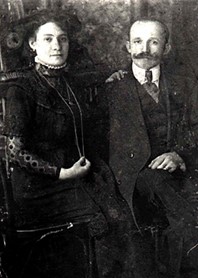 Salomon Broder with his first wife, Anna Gutman[1]
 
Salomon became a French citizen by virtue of a decree dated December 4, 1926.
Salomon Broder presumably got remarried to Chaja Malka after the death of his first wife, Anna Gutman.
The couple had one child, René born on August 24, 1926 in the 12th district of Paris.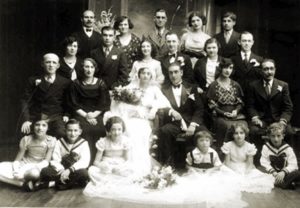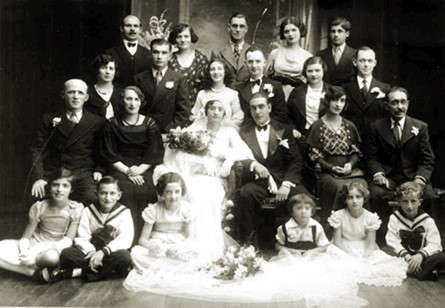 Salomon Broder is in the second row, on the left, with Chaja Broder at his side, and René Broder is in the first row, on the right
René was born a French citizen because his father was French, as shown in the document below [2].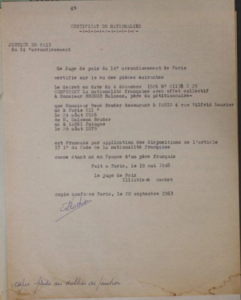 Certificate of French Nationality
According to a source found on the Internet,  http://www.dankazez.com/broda-broder. Salomon Broder died 1941. He did not therefore die as a result of having been deported.
In July 1944, Chaja Broder was living with her son at 4, rue Wifried Laurier in the 14th district of Paris.
According to the testimony of his mother, who survived and returned to France after having been deported, she and René were arrested on the street, along with some other people, on July 25, 1944 in rue Henri Monnier. They were taken to the police station on rue de la Banque in the 2nd district of Paris. They were then held overnight in the police depot before being taken to Drancy camp the following day [3]. They stayed in Drancy internment camp from July 26 to July 31, 1944., when they were deported on Convoy 77  [4] to the Auschwitz-Birkenau concentration camp in Poland  [5].
When they got to Auschwitz, Chaja was separated from her son René, forever.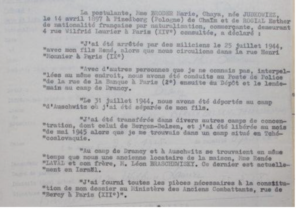 Chaja Broder's witness statement
When she returned from the camps, Chaja applied to have son officially acknowledged as having died during deportation in Auschwitz [6] He was only 17 years old.  The declaration of death states that he died on July 31, 1944  [7]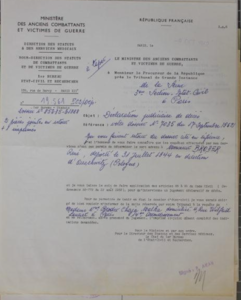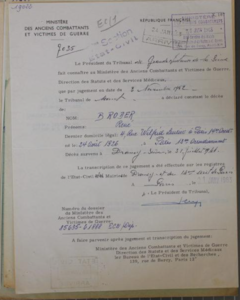 Declaration of the death of René Broder, issued by the Seine court.
---
[1] Photograph of  "The Brodas/Broders". Source http://www.dankazez.com/broda-broder
[2] Document from Convoy 77 association, which, after the war, was submitted by René Broder's mother as part of her application for a certificate of non-return.
[3] Drancy camp: Drancy was used as an internment and assembly camp for French Jews before they were sent to concentration camps and killing centers. Nearly 63,000 people were deported from Drancy.
[4] Convoy 77 was the last of the large convoys from Drancy to Auschwitz. It left on July 1944, with 1306 people on board.
[5] Auschwitz-Birkenau was a large concentration camp and killing center in Poland. More than 1.1 million Jews were murdered there.
[6] It is clear to see, on document 1, that the request was made by Chaja Broder, René Broder's mother.
[7] From 1945 onwards, when it became clear that many deportees had "disappeared", the families were obliged to request certificates of non-return, which were then followed by declarations of death in lieu of death certificates.
It was decided, arbitrarily, that when drawing up these certificates, the place of death given would be that of the internment camp where the future deportees had been detained (Drancy, Pithiviers etc.), and the date given would be that of the departure of the convoy.